No2ID shakes fist at plod print scanner plan
Dodgy tech not the solution
Privacy group No2ID is calling for legal protections before the introduction of mobile fingerprint scanners next year.
As we reported in May the National Policing Improvement Agency handed over £50m for mobile devices to police forces.
These will allow officers to check fingerprints against the Police National Computer.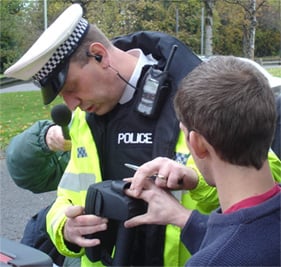 'Don't worry, lad. The resemblance to
a pencil sharpener is purely coincidental...'
No2ID is concerned that there are insufficient legal safeguards for such technology to be introduced. It warned that failure rates were unacceptably high and that the public might feel under pressure to give their prints. No2ID quoted figures from a 2004 Passport Service pilot which showed 19-20 per cent of people could not be matched to fingerprints entered minutes before and that 4 per cent could not be enrolled at all.
The group called for regular reporting of both success and failure rates for the devices. No2ID also asked that fingerprints only be checked against criminal databases, and that prints and names collected not be stored in any way. Finally the group called for restrictions stopping police arresting someone for refusing to have prints taken if there is no other suspicion about them.
The Home Office told us the pilot, dubbed Project Lantern, began in November 2006. It was so successful with the initial 10 forces that it extended to 20 forces with 200 devices. The pilot will continue while details of a national project are decided - no vendor has yet been chosen.
The pilot has conducted almost 30,000 checks. 97 per cent of these returned results within five minutes, and 87 per cent in under two minutes. The checks therefore took much less time than carting suspects down to the station.
Asked about the legality of demanding fingerprints, the National Policing Improvement Agency said: "Appropriate legislation to protect the rights of the individual and the uses to which such a capability can be used by police are currently being considered as part of the review of the Police and Criminal Evidence Act 1984.
"The Marper case currently being considered by the European Court of Human Rights, when it is reported, will undoubtedly also have a bearing on how that legislation is framed." Michael Marper had his DNA put on the UK national database and is trying to get it removed because he was not convicted of any crime.
The national scheme is called Midas - Mobile Identification At Scene. It is expected that the devices will be ready nationwide in late 2009 or early 2010. ®
Sponsored: Minds Mastering Machines - Call for papers now open