Panasonic touts ToughBook trio
Well 'ard
Panasonic's ToughBook laptop line just expanded, thanks to the firm's creation of three more ruggedised machines.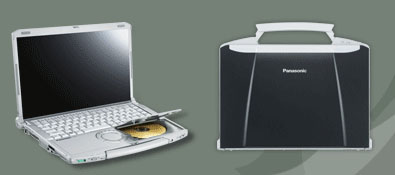 Panasonic's ToughBook CF-F8: with an integrated carry handle
There's the 14.1in CF-F8, and the 12.1in CF-W8 and CF-T8. The larger-display model weighs in at 1.6kg, while the CF-T8 tips the scales at 1.3kg. The CF-W8 weighs in at 1.2kg.
Despite their differences in size, each magnesium chassis machine can withstand a drop of 75cm and put up with 100kg of pressure on the lids. The keyboards are spill-proof, but it's not been stated exactly what volume of Evian beer, skinny caramel macchiato black coffee or diet Coke Red Bull they'll shrug off before blowing a fuse.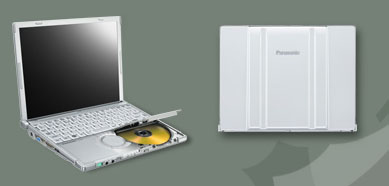 The CF-W8 has a DVD multi drive
Both the CF-W8 and CF-T8 have 1.2GHz Intel Core 2 Duo SU9300 processors under their respective tough shells, along with 3GB of DDR 2 memory and a 120GB hard drive.
Panasonic's decked the CF-F8 out with a meatier 2.6GHz Intel Core 2 Duo SP9300 processor, but given it the same about of memory as its smaller-screen rivals. It has a 160GB HDD.
All three models have the Intel GS45 chipset.
Given that all three tough machines can be dropped with confidence from the aforementioned height, it's a shame that Panasonic hasn't equipped any of the trio with an SSD. However, the HDD has been given an integrated damper system.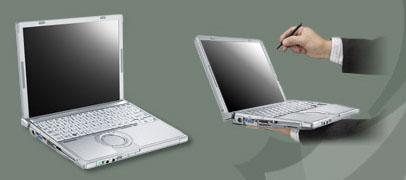 The CF-T8 doesn't have a DVD drive, but boasts a touchscreen
All three models support 802.11n Wi-Fi connectivity, and users have the option of integrated HSDPA 3G support. Bluetooth's on board as standard. The CF-F8 and CF-W8 have integrated multi-format DVD writers.
In addition to being tough, the trio are also secure because not only is a fingerprint reader embedded into each machine, but Trusted Platform Module specification 1.2 is also supported.
All three models will go on sale in the UK next month, with the CF-W8 priced at £1435 ($2227/€1770), the CF-T8 at £1530 ($2374/€1887) and the CF-F8 at £1628 ($2526/€2008).
Sponsored: Minds Mastering Machines - Call for papers now open