Apple MacBook Pro 15in
A powerful, professional piece of kit
We need to mention the 17in version of the MacBook Pro. This model is listed as 'new' on the Apple website, alongside the two 15.4in models, but it's only a minor update of the last-generation model. It doesn't have the curvier aluminium casing of the new model, or the more-important twin graphics processors. It's believed that the 17in model will be properly upgraded in a month or so, so anyone thinking of buying this version should wait to see when the full upgrade arrives.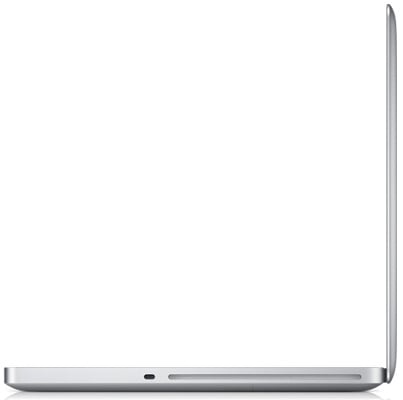 Slim
The price of the MacBook Pro obviously means that it's more of a niche model than the mass-market MacBook. However, the larger screen and the versatility of the twin graphics processors will certainly appeal to Apple converts in fields like design and video editing.
Interestingly, we looked at the Alienware website and configured one of its Area 51 gaming laptops with a specification similar to that of the 2.4GHz MacBook Pro, and the Alienware machine came to just over £1500, compared to £1399 for the MacBook Pro. So Apple really has put together a competitive package with the new MacBook Pro and isn't simply relying on fancy design to justify its high prices as it has done in the past.

Two graphics cores for the price of one
In fact, the real threat to the MacBook Pro comes not from its PC rivals but from its baby brother, the recently upgraded MacBook. The improved performance of the new MacBook will make many Mac users think twice about coughing up the extra cash for the MacBook Pro. However, the MacBook Pro does still have two features that will probably seal the deal for professional users: the larger screen and the Firewire 800 port.
Verdict
The new MacBook Pro may not fly off the shelves in the same numbers as the new MacBook – or tempt many PC 'switchers' into the Mac fold – its twin graphics processors, larger screen and Firewire should be enough to ensure that existing MacBook Pro users will be more than happy to upgrade to this new model.
Sponsored: Minds Mastering Machines - Call for papers now open

Apple MacBook Pro 15in
Stylish design backed up by strong performance and innovative twin graphics chippery.
Price:
£1399 (2.4GHz) £1749 (2.53GHz) RRP