Apple MacBook Pro 15in
A powerful, professional piece of kit
The 2.4GHz MacBook Pro has a very similar specification to the 2.4GHz MacBook. The £250 extra you pay for the 'Pro' tag gets you that 15.4in display in place of a 13.3in, 1280 x 800 screen. Designers who need to use Photoshop or other graphics software will certainly prefer the larger display, although the screen alone wouldn't be enough to justify the extra expense. However, the MacBook Pro does have an ingenious ace up its sleeve.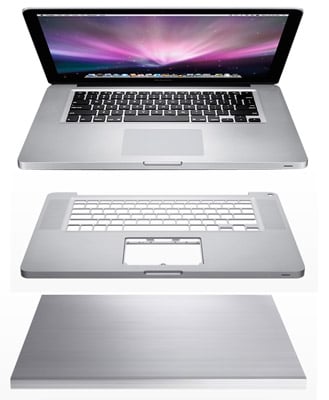 The casing has been been constructed from a single block of aluminium
The MacBook Pro has the same Nvidia GeForce 9400M integrated chipset as the ordinary MacBook, but it also has a second, faster graphics processor, the GeForce 9600M GT. When you need the longest possible battery life you can use the 9400M, and then just switch to the 9600M GT when you need maximum 3D performance for playing games, intensive graphics or video work.
Switching between the two graphics processors is very straightforward. When you open the Energy Saver control panel, there's a simple option for switching graphics performance between "Better battery life" and "Higher performance". You don't even need to shut the machine down to do this – although you do need to log out of your user account, and then log back in again. Alas, it's not an automatic process.
Still, logging out and in again only takes about ten seconds, but it does mean that you'll need to shut down any open applications and save your work before switching between the two graphics processors. However, that's a very minor inconvenience when set against the power-saving advantages of this dual graphics processor approach.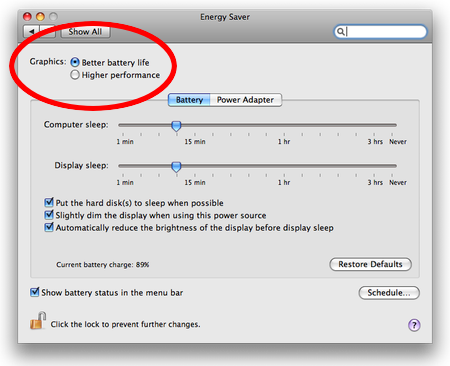 Click for full-size image
The 9600M GT is certainly faster than the 9400M, but it does shave about one hour off the battery life. Or rather, it allows you to use your Pro away from a power socket for at least an hour longer than you could have done if, as in past models, Apple had only equipped the Pro with a standalone graphics chip.
Sponsored: Minds Mastering Machines - Call for papers now open