Intel apologises for 'inappropriate' iPhone critique
We've got to be nice to Steve, OK?
Intel has rapped the knuckles of executives who this week hammered the iPhone for not being able to show the internet as well as a PC can. They were talking out of turn, the chip giant said.
No less a personage than Intel's mobility chief, Anand Chandrasekher - who this week showed off the first working version of the next generation of the Atom processor - had this message put up on the company blog:
"As general manager of the Group responsible for Intel's ultra-mobility products, [Chandrasekher] acknowledged that Intel's low-power Atom processor does not yet match the battery life characteristics of the ARM processor in a phone form factor. And while Intel does have plans on the books to get us to be competitive in the ultra low power domain, we are not there as yet.
"Secondly, Apple's iPhone offering is an extremely innovative product that enables new and exciting market opportunities. The statements made in Taiwan were inappropriate, and Intel representatives should not have been commenting on specific customer designs."
Those "inappropriate" comments centred on the iPhone's inability to show "the full internet" because it's not based on an x86 processor.
And it's true, the iPhone can't display every web page because it doesn't support Adobe's Flash technology or Sun's Java. YouTube uses Flash, and the iPhone can only display YouTube content because a portion of the online gogglebox's content has been converted to H.264 format, which the iPhone can view.
That was the argument put forward by Intel's Pankaj Kedia when we discussed the ARM versus Atom debate at the spring Intel Developer Forum last April. His pitch is that by using an x86 chip like Atom, a hardware developer can run an off-the-shelf "fully featured" web browser on an off-the-shelf OS, delivering a superior internet experience than even the lauded iPhone can manage.
Why not do the same with an ARM chip? Because the way the ARM architecture and products based up it have evolved, said hardware developer has to get Adobe to code up a version of Flash Player that's specifically tuned to the ARM chip being used in the device. Unlike x86, there's no one-size-fits-all solution, Kedia said.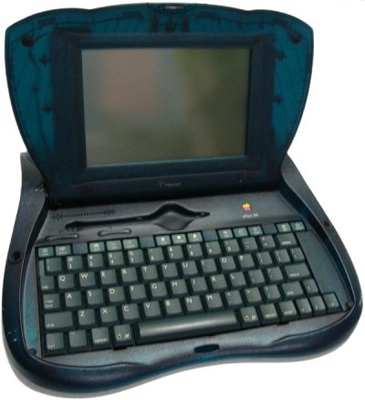 Apple's eMate 300: a dangerous, Intel-worrying precedent?
Nokia can afford to do this, and other, lesser companies have taken the cost on the chin too, he admitted, but they could have saved themselves all that by loading up Linux and Firefox on an x86 processor.
True that may be, but Kedia and colleague Shane Wall shouldn't have said so at IDF Taiwan this week, the telling-off from on high shows.
Does Apple care? Probably not. It's committed to using ARM on the iPhone, and having sold 6.9m of the handsets during its last fiscal quarter, it's not short of the bob or two its needs to get Adobe to port Flash Player to the iPhone. If, indeed, cost was the reason it left the feature out of the current version of the iPhone OS.
Apple in April acquired chip maker PA Semi, which will be working on ARM-based chippery for future iPhones, but it seems very unlikely that the company would switch its Mac line-up away from Intel, so it's not like the Intel staffers' comments are going to cost the company.
Has it lost orders Apple might have made for Atom CPUs? Again, not likely. Apple knows Intel's roadmap but bought PA anyway. That doesn't sound like the strategy of someone about to switch from ARM to Atom any time soon.
But then there's the notion of an Apple netbook. Speaking at this week's conference for financial analysts, CEO Steve Jobs reiterated what he said at Apple's MacBook launch last week: that the company's taking a "wait and see" approach to the market.
This time round, he added that, if Apple does make a move into netbook territory, it has "some pretty interesting ideas" about how to do so. That sound too much like classic Jobs hyperbole to take seriously, but we know Apple views the iPod Touch as a web tablet, so is it a stretch of the imagination too far to suggest an Apple netbook might actually be a large Touch with a keyboard?
If a key aspect of any netbook is a simplified, appliance-like UI, an Apple machine might very well use the iPhone OS rather than the full Mac OS X, in which case it would have to be based on ARM chippery.
There's a precedent: Apple's ARM-based eMate 300 mini-laptop, which used the Newton OS instead of the Mac system software.
Maybe that's what got Intel sufficiently worried to issue an apology.
Sponsored: Minds Mastering Machines - Call for papers now open