Global meltdown endangers terabytes
Could storage sales sag?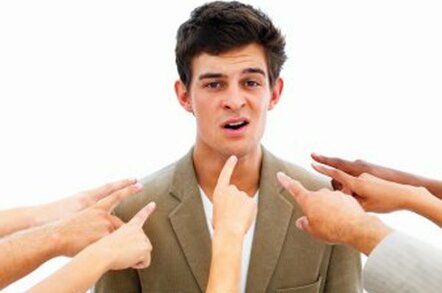 We consumers are cracking. We don't trust the banks. The banks aren't lending to businesses. The businesses are firing workers and buying less. So we consumers are spending less. It's a mess. The economy is in an almost certain recession and storage sales could head south.
Forecasts of terabytes shipped have consistently shown growth, whether it's for enterprise storage, small/medium business (SMB) storage or storage in homes. None of the storage sales growth forecasters have revised their charts to take account of the recession that is upon us. So let's see what will go through their pretty shell-shocked heads.
US industrial production, according to the FT, showed its largest monthly decline since 1974. There was a 1.2 percent year-on-year fall in retail sales, making three monthly falls in a row. Purchases of automobiles came to an emergency stop. Clothing and furniture sales were weak.
US consumers with ravaged 401K retirement plans and vanishingly small savings are becoming thrifty. They'll save before spending cash on new curtains, a new car, a new PC. The vista looks bleak.
Web 2.0 start-ups are in an austerity phase, laying off workers and treating every dollar as if it was their last after Sequoia Capital's graveyard shift warning.
Small businesses are in trouble. Credit has dried up, sales are falling, and that new server computer system is going to have to wait. The small businesses don't buy so much from their suppliers who don't...you can see the way things are going.
Put it like this: The US and European economies are facing the worst recession for 25 years and it might be even bleaker than that. When the IDCs of our storage world hit the phones and canvas their contacts for storage sales outlooks, they could find their hitherto ever upward charts suddenly turning south.
In a recession the growth in customer data for businesses could slow and halt. The ability of business to buy new storage kit will be less. The appetite of financially-challenged public sector bodies for storage could lapse. Web 2.0 companies won't grow so much and that supposed drive array gold-mine turn into fools' gold.
Taking all this into account, it is beginning to be conceivable that storage sales could sink. We could see a sequential sag in terabytes shipped in Q4 of this year with another one in Q1 next year.
Michael Dell thinks that a recession could favour Dell because there will be a flight to value, meaning lower prices as well as sheer value for money. Customers could simply move from a tier one storage supplier or product to a tier two, from Symmetrix to Clariion, or from EMC to Compellent or Pillar, and so on down the stack of products and suppliers.
Weaker suppliers could be left cruelly exposed. It all depends upon the size of the curve ball that the economy is throwing at the storage industry. If it's big enough, then shipped terabytes could turn south and some suppliers could crack as well as consumers. ®
Sponsored: Minds Mastering Machines - Call for papers now open