Asus P6T Deluxe Intel Core i7 motherboard
Intel's X58 chipset makes an early appearance
There is a decent array of ports and connectors on the I/O panel, starting with a single PS/2 port that can be used for either a mouse or keyboard. There are eight USB 2.0 ports in four widely spaced pairs, a full array of audio connectors, a six-pin Firewire, one eSATA and dual Gigabit LAN. Plug in the supplied bracket and you gain two more USB ports and a mini four-pin Firewire.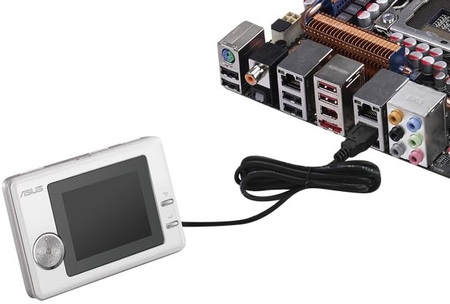 PMP? No, Asus' OC Palm overclocking gizmo
The box of accessories includes the usual cables and also a gizmo called OC Palm which looks like a small USB digital clock. We've seen various external debug and POST devices from Asus in the past but this is something different, not least because it connects to a regular USB port instead of using a dedicated header on the board. Once Windows is running and you've installed the Asus EPU-6 Engine utility, the Asus TurboV utility for overclocking within Windows and the driver for the OC Palm device, you can use the OC Palm to monitor the innards of your PC and also to change settings on the fly.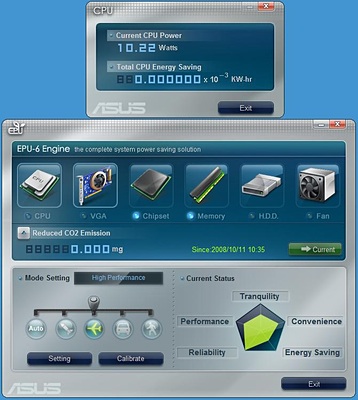 It sounds like a spiffing idea, provided you fancy the idea of adjusting your CPU and RAM speed while you're playing a game and can't see the Asus TurboV utility, but once again we're not so sure. Overclock, test, test and test again and then play is our mantra.
We were hard-pressed to spot any new features in the Bios setup screen, which seemed surprising as this is new CPU architecture for Intel. But of course AMD has already pioneered an integrated memory controller and has ditched the frontside bus in favour of HyperTransport. If you're familiar with Athlon or Phenom then Core i7 will hold few terrors.
Verdict
We can't give the game away about the performance of the P6T Deluxe - well, not for a couple of weeks, anyway - so let's just say that the quad-core Core i7 which we set to 2.66GHz then 3GHz crunched through benchmarks as effectively as the clock frequency suggests. It's a similar story with triple-channel DDR 3 running at 1066MHz. The low clock speed hurts latency, while the integrated memory controller and triple-band feature delivers bandwidth like there's no tomorrow.
As for the P6T Deluxe, well it's a decent motherboard but it's a very safe design that covers all of the options but it does it without adding anything exciting to the mix.
Sponsored: Minds Mastering Machines - Call for papers now open

Asus P6T Deluxe Intel Core i7 motherboard
A solid if unexciting effort. All we need now is for Intel to get the Core i7 into users' hands.