Hands on with Sony's slimline Vaio TT
Air beater? No question
The TT has Gigabit Ethernet, though the port's hidden behind a big silver corner flap on the right left side of the laptop. The flap also covers the laptop's HDMI port, and it's clearly more about maintaining the symmetry of the notebook's design than keeping these ports safe. On the left side of the machine, next to the multi-format DVD writer - no Blu-ray drive for the Brits - sits and unprotected VGA connector.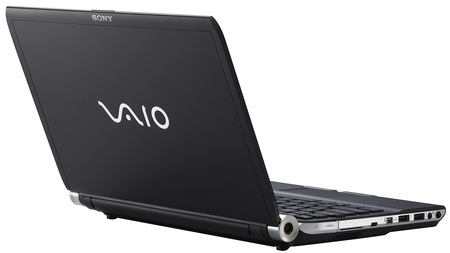 It may have a carbon-fibre design but the lid's still bendy
The Vaio's left-side port array includes two USB 2.0 ports, a four-pin Firewire connector - one up on the new MacBooks, we'd say - an ExpressCard 34 slot and 3.5mm audio sockets.
On the front, you'll find MemoryStick and SD memory card slots, a physical wireless switch, volume and play/pause keys, a user-defined shortcut key and an eject button for the DVD drive - which is handy because the on-drive eject button isn't the easiest of its kind to trigger.
Sony said the TT range will come with 2-4GB of 800MHz DDR 3 memory - it admits Windows Vista Business, the OS the TT comes with, won't use more than 3GB - and a 160GB hard drive, though it will also be offered with a SSD - 128GB, most likely - on a build-to-order basis.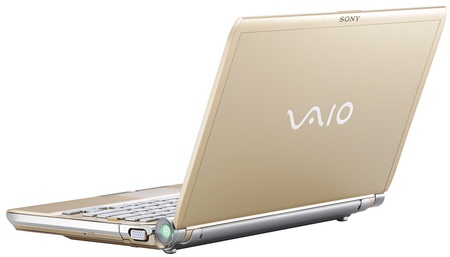 Fancy it in gold?
The TT comes with a lozenge-style keyboard - Sony calls it an "isolated" keyboard - which unlike the ones on Apple machines has slightly concave, textured tops. We found it eminently touch-type friendly. The trackpad's not bad either.
What we don't like is the price: £1499 for a base model with 2GB of memory, a 120GB hard drive and no HSDPA, rising to £1999 for the full monty machine. The TT's aimed squarely as business types, but even they may think twice about laying down two grand for a new - albeit nice and fully featured - notebook in these hard times.
Or maybe they'll go for the "gold fever" edition in an attempt to make the statement that they're considerably richer that yaou...
Skinny Laptop Reviews
Toshiba Portégé R500
Lenovo ThinkPad X300
Apple MacBook Air