Fujitsu intros gesture-control laptop line
Multi-touch LifeBook P8020 debuts in US
Fujitsu has expanded its LifeBook laptop line with a touchy-feely model that sports a gesture-enabled touchpad.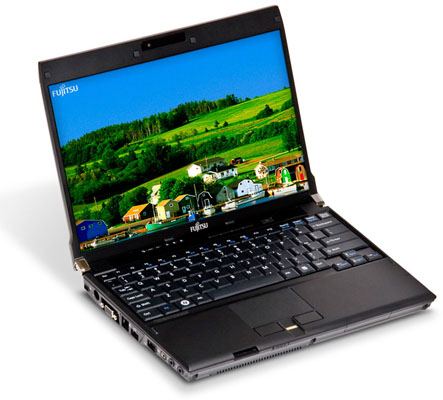 Fujitsu's P8020 LifeBook:
The P8020's touchpad lets you zoom in and out by moving two fingers closer or further apart. It also lets you perform a continuous scroll – something that Fujitsu's called "ChiralMotion" – by moving your finger in a clockwise circular motion to scroll down, or counter-clockwise to scroll up.
Such features aren't unique because similar touchpad functions feature on the latest range of MacBooks, but it does at least show that Fujitsu's trying to keep up with its rivals.
Under the P8020's hood is a 1.4GHz Intel Core 2 Duo SU9400 processor with 3MB L2 cache and connected to 2GB of 800MHz memory. The machine has a 800MHz front side bus and Intel G45 chipset.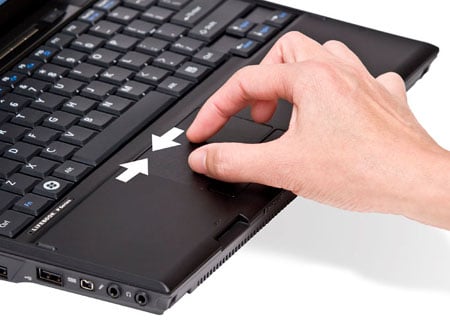 Touch control, Fujitsu style
A 12.1in, 1280 x 800 screen has been built into the P8020's lid and graphics are handled by the Intel GMA 4500 HD graphics core integrated into the chipset.
Users have a number of storage options to choose from, ranging from between 120GB and 320GB of hard drive space to a 128GB SSD at the top end. You'll also get a dual-layer, multi-format DVD writer as standard.
Connectivity wise, the machine supports Wi-Fi 802.11n and allows for short-range data transfers over Bluetooth 2.1. Some of the P8020's other selling points include a fingerprint reader and a spill-resistant keyboard. You'll also be able to hold videoconferences with colleagues thanks to the laptop's integrated 1.3-megapixel webcam.
Fujitsu's P8020 is available in the States now online, with prices starting at $1800 (£1053/€1357) and topping out at $2500 (£1462/€1886). A UK specific release date or price range hasn't been confirmed yet.
Fujitsu LifeBook P8020 Picture Gallery
COMMENTS
Driver?
Most older touch pads have a dedicated chip giving a PS/2 output... which did not provide this feature. The newer ones have a more useful chip for scanning across the pad and give the correct interface. However never let a good laptop manufacturer use quality / well designed components over cheap mass produced ones, as that might produce something really useful.
Tochpad or driver feature?
Surely it's the driver that's performing the feat meaning that any touchpad should be able to perform these features as long as someone cares to write support for for these "oh so wonderful" features?
gesture
oh, *touchpad*, for a second I thought it was the screen, must be something to do with the spin in that headline!
I know what gesture I'll be giving this then..