CommVault and McAfee team to fight gorilla
The 800-pound Symantec silverback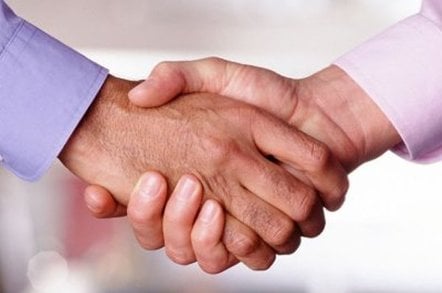 These days, David wouldn't stand a chance against Goliath. Slingshot-only attacks against an armoured giant carrying a big club will get you nowhere. Goliath, you see, has gone and bought Norton armour. So David has to go looking for a partner.
This is why CommVault and McAfee are partnering to sell a backup/archive and security combo to customers who also face the inviting arms of Symantec with its Veritas backup and acquired Norton security products.
Software companies partner like rabbits, with monogamy unknown. Some partners fit, especially those where there is no product overlap and a common enemy. So it is with CommVault and McAfee.
CommVault's Simpana backup, archive, replication, single instance file de-dupe, and data management product has recently been OEM'ed to Dell for use in its DL2000 appliance, alongside, it has to be said, a non-deduping Symantec product. We could say that CommVault is ever so strongly aware of its much larger competitor.
McAfee is a stand-alone security company, perhaps feeling pangs of vulnerability after Symantec bought Norton, NetApp bought Decru, and EMC absorbed RSA. With a strong desktop security heritage, its biggest competitor is the almost ubiquitous Norton.
According to Mike McMahon, CommVault's senior director for OEM marketing, McAfee came calling on CommVault and said it would be neat if there was a link between Simpana and its own ePolicy Organiser (ePO) product. Simpana deals with moving data into backup repositories and archives and ePO deals with vetting access to data.
The combo could better combat data leakage by having Simpana tell ePO if there was, for example, an unscheduled backup attempt, with ePO then alerting the security admin people.
Simpana could also copy backed up data at remote sites and replicate it to a central repository where it could be better protected. The space efficiency of this would be enhanced when Simpana brings out block-level de-duplication next year.
Simpana has its management console and ePO has one too. The two companies want to integrate their products more closely and we could think of the ePO console taking on Simpana management console responsibilities, one console being better than two. McMahon said: "A single ePO console might be a deduced direction but it's not committed yet."
We might also consider a security administrator receiving a Simpana alert via ePO sending a message back and stopping the unauthorised backup. Again McMahon said: "This is what might happen. It's been looked at and might happen in phase 2 or 3 of the relationship."
Both companies are joining each other's partner progams, and there will be marketing and sales support for members of both channels.
McMahon thinks the relationship has great prospects because of the lack of product overlap: "It's a tremendous win-win. McAfee isn't going to code legal hold, and there's a very good culture and style fit."
With McAfee being a $1b revenue a year company and CommVault a $193m one, junior Simpana will appreciate a legup into McAfee accounts and ePO sales reps will enjoy being able to sell backup and archive data loss prevention into their own and CommVault's accounts. Integrated product will be available early next year.
CommVault is hoping that with McAfee's security protection it can be a gorilla too and compete on more equal terms with Symantec in the backup/archive jungle. ®
Sponsored: Minds Mastering Machines - Call for papers now open