Advent 4213 HSDPA 3G-enabled netbook
Integrated cellular connectivity... at last
So the 4213's got a capacious power pack then? Well, not quite - the 4213 comes with a 3600mAh battery that's toward the bottom of the SCC battery capacity chart. We'll see what this means for the 4213's runtime later, but for now it's enough to say it makes for a chunky feeling machine.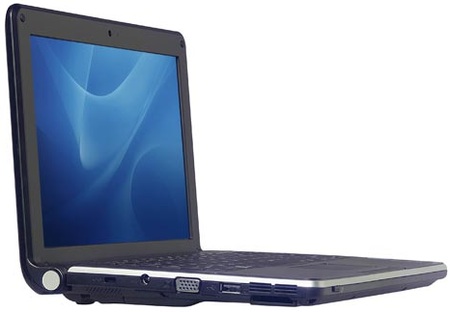 Bulges at the back
The 4123's lid hinges at the sides so it opens to drop the screen right down at the back, as the Wind's display does. There's the usual webcam - a 0.3-megapixel job - in the display bezel. The keyboard is unusual in that it's entirely flat and with very little gap between the keys, which are less square than most keys are. There's a solid base underpinning the keyboard, which we liked.
But it's not the full width of the machine, so the keys aren't as large as they could be, which seems crazy when there's clearly room for a larger board. The 4213's is wide as the Wind - why not match its keyboard size too?
Still, it's a much better board that the one on the sub-10in Eee PCs but it's still a bit cramped - good for kids, perhaps, but not grown ups, perhaps.
The trackpad - a basic job with no scroll options - is almost but not quite flush with the wrist-rest area, but it's the buttons that stand out, not only formed from a single piece of plastic pivoted in the centre but also home to the 4213's status LEDs. Unless you push the buttons right at the end, they require a fair old push to trigger - though not as much as the ones on the Eee PC 701 and 900 - and it's disconcerting pushing the LEDs. You half expect to turn the machine off, or disable the Wi-Fi.
Shiny... but pricey
Speaking of which, the 4213's function keys provide a surprising array of options, including the ability to switch on and off the Bluetooth, HSDPA and Wi-Fi all individualy; turning the touchpad on and off; disabling and enabling the webcam; and engaging "Silent Mode".
Silent Mode is a misnomer: the 4213 still hums away when it's engaged. Rather, it's the Advent equivalent of the Asus Eee PC 901's battery-preservation mode, underclocking the system to 800MHz to boost the runtime. And since that means less cooling is required, the fan spins down so the system is quieter than before. Silent Mode automatically kicks in when you yank the power cable.
Sponsored: Minds Mastering Machines - Call for papers now open