Advent 4213 HSDPA 3G-enabled netbook
Integrated cellular connectivity... at last
Connection Manager will handle SMS messaging, and track your data usage in case you're the one footing the bill. It's perhaps a little slow activating the modem and negotiating with the network, but actually making the data connection wasn't a problem.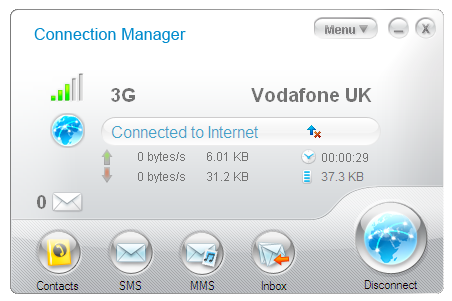 Connect out of hotspot range
We tried the 4213 with our customary Vodafone-supplied SIM and were soon surfing wirelessly. The SIM slot us behind the battery - it prevents folk accidentally ejecting the SIM, we suppose - but it's no chore to swap one card for another.
The HSDPA hardware comes at a premium, of course. The benchmark for the 4213 is Advent's own 4211, which offers an almost identical spec - only 80GB HDD capacity and keyboard size between them - to the HSDPA-less 4212. Since the £280 4211 is £20 cheaper than the 4212, there's no reason to buy the latter, unless you want the storage.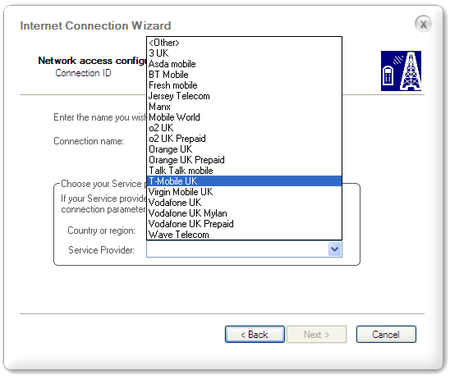 Ready for the UK's HSDPA 3G providers
The 4213 is a different proposition, thanks to the on-board HSDPA, which makes it £70 more expensive than the 4211. The hardware's unlocked, so the 4213 can be used with any network, and there's no question that it's more convenient to have the HSDPA link built-in rather than dongle-connected. Again, you get 80GB more storage capacity.
Verdict
As with so many SCCs, there's much to like about the Advent 4213 coupled with some irritations. Why is the keyboard so small when there's plenty of room for a larger one? Why is the battery physically big and yet not as capacious as it could be? It's not particularly attractive, but, on the other hand, it does have on-board HSDPA and it's fast.
Sponsored: Minds Mastering Machines - Call for papers now open

Advent 4213 HSDPA 3G-enabled netbook
It may have more storage than a netbook should have, and a weeny keyboard, but the Advent 4213 wins us over with its integrated HSDPA link.
Price:
£350 (Advent 4213) £300 (Advent 4212) RRP