Navman S30
3D satnav, anyone?
With the map left with so little room we found it easier to simply listen to the voice instructions rather than try get our bearings by glancing at the display. While this might be considered a safer way to use a satnav, we much prefer the ability to have a clear idea of what lies ahead, which is what you get with models that have larger screens.
Despite its small dimensions, at maximum volume the S30 3D manages to just about make itself heard over the roar of motorway driving, but wind down a window and you'll struggle to hear it. Unlike more expensive models, the volume won't automatically adjust in relation to your speed.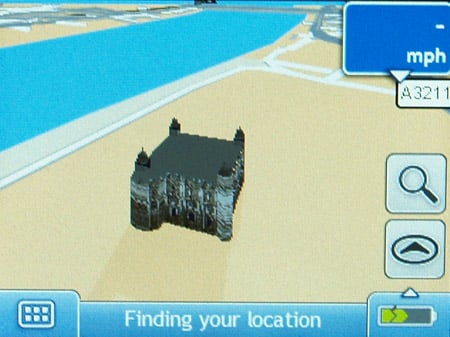 Can you guess what it is yet? The Tower of London, apparently
This wouldn't be an issue if it was quick and easy to change the volume, but it's a frustratingly laborious process: press and hold the volume icon, wait for the volume menu to appear, adjust the level, click to return to the map screen, then check out the carnage in your rear-view mirror.
On-screen controls are all well and good, but for certain tasks you can't beat physical buttons, especially when you're dealing with such a small screen. The re-routing issues we mentioned in our review of the original S30 appear to have been ironed out. Veer off course in order to take a different route, and the S30 3D will soon realise what you're up to - only as a last resort will it instruct you to make a U-turn.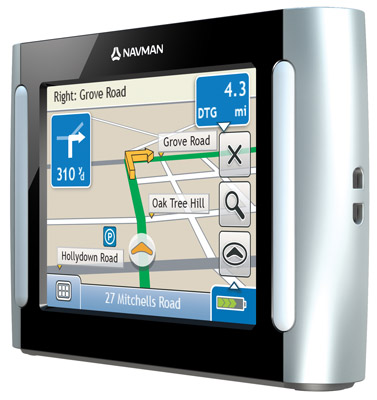 POIs are built in, but they're woefully out-of-date
Thanks in part to the small screen, the S30 3D's battery life is commendable. We managed just under three hours' navigation without the power adaptor.
Navman appears happy to continue using data supplied by Tele Atlas, even though the mapping giant was snapped up by its arch-rival, TomTom, earlier this year. The S30 3D runs off the 2007.10 version of Tele Atlas' UK and Ireland maps but, as eagle-eyed Register Hardware fans have pointed out in the past, this doesn't include the Isle of Man. And although Guernsey is welcomed to the party, Jersey is cast aside.
Sponsored: Minds Mastering Machines - Call for papers now open