Apple MacBook
A complete overhaul only improves this neat notebook
Our Xbench benchmark tests confirm Apple's claims for the 9400M, indicating that OpenGL 3D graphics performance is indeed several times faster than the integrated graphics of previous models.
Xbench Results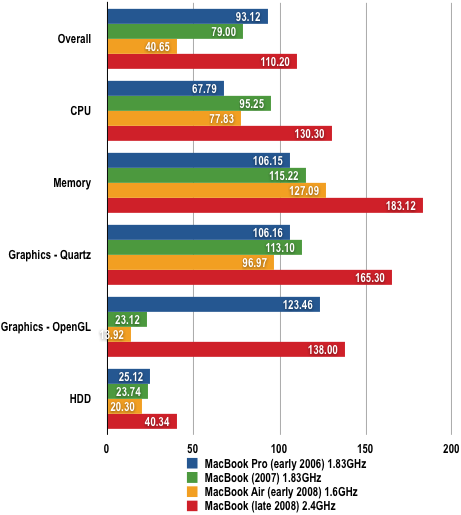 Longer bars are better
The good news for users on the move is that the improved performance hasn't affected battery life too badly. Apple claims a maximum of five hours' use, even with the 802.11n Wi-Fi turned on. As always, that 'maximum' rating is a little optimistic, but our own tests didn't fall far short of this number. We got three full hours playing H.264 movies with the Wi-Fi turned on and the screen brightness turned up full, and performing less demanding tasks such as word processing or surfing the net gave us close to four-and-a-half hours.
The metal casing and improved graphics are the key changes in the new MacBook, but a quick look around the unit reveals a few other differences too. The MacBook's trackpad has increased in size, swallowing up the button that used to run along the lower edge of the pad. Instead, the entire surface of the trackpad now acts as a button, allowing you to press down on it in order to 'left-click' items on the screen.
Made out of glass for an appreciably smoother finish, the new trackpad also allows you to make more extensive use of multi-fingered 'gestures', such as pushing upwards with four fingers to activate Mac OS X's Exposé feature, which instantly hides or recalls windows on the Mac desktop. Trying to make gestures using three or four fingers at a time can seem a bit odd at first, but they do speed up many routine tasks for which laptop users might often buy a separate USB mouse. We also like the ability to customise some of these gestures, such as being able to specify one corner of the trackpad that acts as the 'right-click' button.
The keyboard has been updated too, with the same low-rise, lozenge-style keys found on the MacBook Air, as well as a backlight that makes the keys glow in the dark. An ambient light sensor can detect when you're working in a darkened lecture theatre or airline cabin, and will automatically illuminate the keyboard so that you can keep on typing.
Sponsored: Minds Mastering Machines - Call for papers now open