Apple MacBook
A complete overhaul only improves this neat notebook
A Sony Vaio SZ with a similar specification to the £949 MacBook costs £1199, so the MacBook can genuinely compete in terms of price and performance while also dangling Apple's stylish design under your nose to tempt you away from rival PC brands.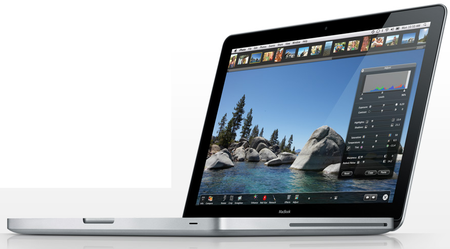 Stylish, fast - but at too high a price?
It's certainly an attractive machine and we don't doubt that many existing MacBook owners will be chomping at the bit to upgrade to the new version. Even so, the fact remains that the 'low cost' MacBook now costs the best part of £1000, which will obviously take it beyond the reach of many of the people who made the original MacBook such a huge success in the first place - especially during the tough times of a recession. And that includes key customer groups such as the iPod-toting students that are such an important part of Apple's user base.
The old 'white' MacBook was one of the best selling machines – either desktop or laptop – that Apple has ever released, so killing it off and replacing it with a more expensive model just as the global economy is going down the toilet is a big risk.
So, as we mentioned earlier, Apple has taken out a little market-share insurance policy. Alongside the new metal MacBooks, Apple will continue to sell one of the old 'white' MacBook models with 2.1GHz processor, 1GB RAM, 120GB hard disk and the feeble Intel X3100 graphics chip for £719, ensuring that it still has a low-cost model available for people on a tight budget.

Only 2.4cm thick
What this means, in effect, is that the MacBook line has been split in two. The old 'white' model is still on sale for about £700, while the new 'metal' models establish a new price point for Apple around the £1000 mark. And, of course, the MacBook Pro is still available for people who need top-of-the-range features and performance.
Verdict
There's no doubt that the new MacBook knocks spots off its predecessors in terms of both design and performance. However, the increased price does mean that Apple is taking something of a gamble with one of its most successful product lines. We suspect that the gamble will pay off – we really do like the new metal models, and we think punters of all kinds will when they get their hands on one – although the worldwide financial apocalypse may make some people think twice about upgrading their existing MacBook right away.
Sponsored: Minds Mastering Machines - Call for papers now open

Apple MacBook
An almost complete redesign gives the MacBook a stylish new look and significantly boosts 3D performance.
Price:
£999 (2GHz, 160GB HDD), £1149 (2.4GHz, 250GB HDD) RRP