Obama spews ads onto Xbox Live
Politics in a Burnout Paradise
In an effort to reach young American males whose interests don't even extend to television, US presidential candidate Barack Obama is now placing ads inside online video games.
As reported by Reuters, Obama has slotted ads into 18 games on Microsoft's XBox Live service, trumpeting the voter registration and early balloting resources he tossed onto the web this summer.
"These ads will help us expand the reach of VoteForChange.com, so that more people can use this easy tool to find their early vote location and make sure their voice is heard," a spokesman for the Obama campaign told Reuters.
Obama-fied Xbox games include Guitar Hero 3, The Incredible Hulk, NASCAR 09, NBA Live 08, NFL Tour, and Burnout Paradise. As you drive the virtual streets of Burnout's Paradise City, for instance, Obama may appear on a virtual billboard: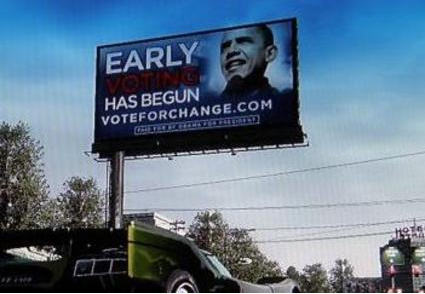 Obama in Paradise
The ads will run until November 3 - the day before the election - zeroing in on ten battle grounds states: Ohio, Iowa, Indiana, Montana, Wisconsin, North Carolina, Nevada, New Mexico, Florida, and Colorado.
Electron Arts (EA) is running ads in nine of its XBox Live games, including Burnout Paradise, and according to a company spokeswoman, the typical player of these games is a male between the ages of 16 and 32. The spokeswoman also says that Microsoft's ad agency Massive, offered similar ad space to John McCain - but he didn't bite.
"The ads [running on our games] don't necessarily represent EA's political views," she told The Reg. "We see these ads much like ads on TV stations."
You might argue this is further evidence that McCain is behind the technical times. But you could also argue that Obama is wasting millions on ads directed at people who won't even turn on a TV - much less vote.
Of course, Obama can afford to waste millions. According to The Washington Post, his campaign raised $67m in August and may have raised as much as $100m in September. John McCain has capped his public fund raising at $84m. ®
Sponsored: Minds Mastering Machines - Call for papers now open