HP readying touchscreen laptops, phones
Range of sensitive products in the works
Hewlett Packard is planning to embrace touchscreen devices more ferociously and is thought to be on the verge of launching both a touchscreen laptop and a series of touchscreen phones.
A spokeswoman for the PC giant confirmed to the Wall Street Journal that it's "building a whole family of touch devices".
Although the spokeswoman didn't give away any further details, people said to be familiar with the matter told the paper that HP will unveil a consumer notebook with a touchscreen before the end of the year.
A price hasn't been leaked yet.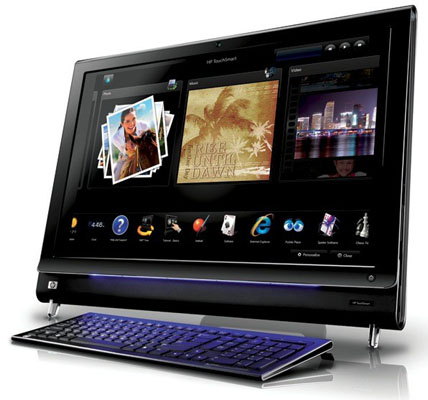 HP expanded its range of Touchsmart PCs just last month
It's worth noting that HP isn't new to the touchscreen market. Just last month, the firm expanded its range of TouchSmart touch-sensitive all-in-one PCs, with the addition of two further models.
However, the already overcrowded touchscreen mobile market could become a little more congested if said sources are correct that HP's planning to launch a series of such devices.
The moles claimed that the phones, which could debut in Europe next year, will be used by HP as a way of differentiating itself from the likes of Dell.
It's also been claimed that HP's planning to launch a netbook with a 10in screen, but which won't feature a touchscreen. The PC could appear in the coming months.
COMMENTS
Gawd/ess
Didn't they figure out the last four or five times that touch screens on the desktop are worse than pointless (single-tasking kiosks aside)?
The more we forget history, the more ...
Worst idea ever since...
... Abraham Lincoln said: " I'm sick of kicking around the house all day, let's go take in a show."
Who in Satan's glorious name would want to hold out their arm in front of them for hours and smear grease all over that beautiful, glassy screen? The beauty of the mouse is that I can sit back and control everything with barely a twitch of my hand. Even leaning forward to type something is a major arsepain. I bet they did no user trials for this whatsoever - and I mean proper ones, lasting at least a month, not those fake Microsoft "I can't believe it's Vista" interviews.
Mind you, I think touch screen phones are cack of the runniest kind too - my typing speed on them is about a tenth of what it is on a button keyboard.
Linux
I wonder if linux will support the hardware? That would be awesome with Compiz/Emerald!!!