Apple MacBook Air stays skinny, gains beefier specs
Port array still pathetic
Apple's MacBook Air remains as skinny as ever following today's laptop launch, but buyers now get much better graphics, a faster processor and more storage space.
The original Air's HDD was its key weakness, so the 80GB parallel ATA drive's gone, replaced by a bigger, faster, 120GB SATA unit. The SSD Air is now offers 128GB of raw storage capacity.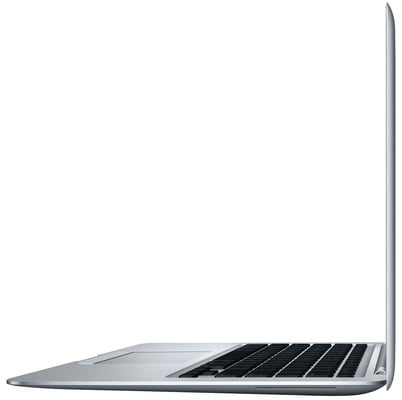 Apple MacBook Air: still slim, but with better specs
As per the new 15.4in MacBook Pro Apple introduced today, the Air now comes with Nvidia's integrated GeForce 9400M chipset, which integrates a GPU that has five times the performance of the Intel one used before.
The Air gets Intel's latest Core 2 Duo CPUs, both with 6MB of L2 cache, but only marginal increases in clock speed. Still, the new core design should mean they outperform the old models by a fair margin.
Alas Apple did nothing to address the Air's paucity of ports: there's still only one USB connector and a headphone socket. The machine gets the new mini-DisplayPort connector instead of the mini-DVI the old one had.
The two new Air models will continue to retail for $1799/£1299 and $2499/£1799, though they won't ship until early November.
Apple October 2008 Laptop Launch
Apple revamps MacBook as 13in MacBook Pro
Apple MacBook Air stays skinny, gains beefier specs
Apple takes wraps off rumour-matching MacBook Pros
Blu-ray Disc a 'bag of hurt', says Jobs

COMMENTS
Displayport?
Does anyone or anything actually use that?
Paris, because she displays... yeah.
Will you stupid c**ts never learn ?
ADD THE FUCKING VEE AY TEE !
At today's exchange rate, with VAT, it comes out as £1210. It's less that 10% more expensive over here. That's less than the usual difference.
@piper
It's the *9400M* which is the integrated part, as it says here and on Apple's website.
Sony Z series
If I had that sort of money to fritter, I'd buy a Sony Z series every time. I reckon it looks nicer, probably lighter, has a better battery life, is far more powerful, actually has a better keyboard (despite looking the same...) and has a usable amount of ports.
And since when was nVidia's GeForce 8400M an integrated GPU?? Apparently is, according to El Reg and Apple's Website.. Shame on you, it's dedicated!
Close, but no cigar indeed.
Are some STILL missing the point?
LOOK!, for all those whiney little prats out there who really don't get the point here it is one more time.
The Macbook Air is designed for people who spend a lot of time on the move and away from the office/base.
The general idea is that you or your tekey tech can maintain and up date the Air along with adding and removing data, through a new thing just creeping in to the industry called THE - WIRE-LESS-NET-WORK. This reduces the need for millions of ports and sockets etc which would make the machine fat and heavy.
So you take you fully updated Air from your office drive 500 miles to a conference take out your laptop, maybe plug in for power and notice that conference rooms and board rooms don't have millions of cables strewn everywhere to plug in to all those vital ports you all want so badly.
Back to your hotel plug in for power again and back up all you days data to disk using the Air's USB optical drive, then you hook up to the hotel wireless network and send some email,a short video meeting with your boss, which you use head phone for, then you may want to relax and watch a film, again, using your USB optical drive to play the DVD.
At this point you will realize that both your arms are still the same length or that you shoulders haven't assumed a diagonal slant that makes you look like you should be ringing a church bell in France.
Sure you won't see many Air's in schools, but I've seen plenty coming out of rucksacks and brief cases at meetings and far less laptop bags cluttering the floor.....