MacBook range revamp snippets slip out
As if by magic, pics and part numbers appear ahead of tonight's launch
Apple fans anticipating a cheap MacBook may be disappointed by the company's notebook launch tonight: possible part-number and price data suggest they won't get one.
In the run up to tonight's unveiling, the rumour mill has been spinning with stomach unsettling speed. The key items flying off are a set of part numbers and prices, as follows:
M97, MB466LL/A $1299 - MacBook
M97, MB467LL/A $1599 - MacBook
 
M96, MB543LL/A $1799 - MacBook Air
M96, MB940LL/A $2499 - MacBook Air
 
M98, MB470LL/A $1999 - 15in MacBook Pro
M98, MB471LL/A $2499 - 15in MacBook Pro
M88, MB766LL/A $2799 - 17in MacBook Pro
There are also some BestBuy database entries doing the rounds, but the Apple part numbers they contain don't match these and, as the Mac Rumours website notes, these are often added speculatively by BestBuy staffers so shouldn't be taken as gospel.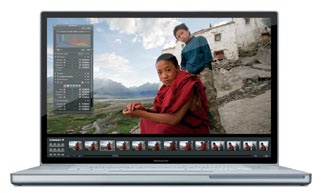 Apple's new MacBook Pro?
The prices match, not only the above numbers but also prices listed by a variety of sites citing different sources.
Given Apple's usual approach to model numbers, it's a fair bet that the above list correctly covers they key pre-configured specs: two MacBooks, two 15in MacBook Pros and a 17in model, and HDD- and SSD-fitted MacBook Airs.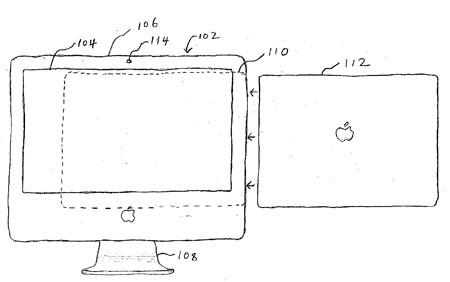 Apple's proposed MacBook dock-cum-monitor to be finally announced today?
The list also contains an $899 product listed as "K29, MB382LL/A", which some pundits had proposed was the anticipated low-cost MacBook. However, others have since claimed that moles have told them it's an LED-backlit display.
We hope it's one into which the MacBook will dock, as per past Apple patent filings. Why else announced a basic monitor at a notebook-centric product launch? We shall see later today.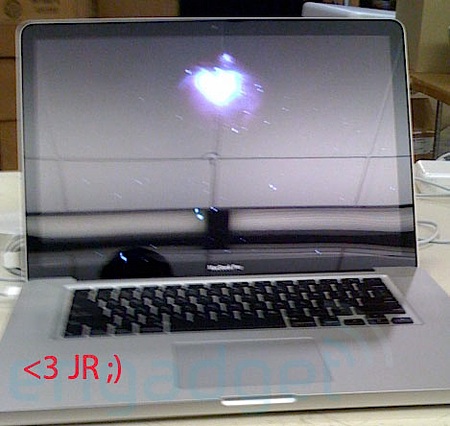 The new MacBook Pro in the flesh?
Image courtesy Engadget
Finally, dozens of blurry cameraphone snaps are appearing online showing the new machines. Interestingly, one shows a MacBook Pro with a black MacBook Air-like keyboard and big touchpad plus a black-bordered glossy display exactly like the one that popped up on the T-Mobile website last month but was dismissed by pundits.
Interestingly, the machine's touchpad has no button - it's said the pad itself acts as a button, though whether a physical one or the usual tap-to-click job we can't say.
Other sites have claimed the touchpad is made of glass, the implication being it's a iPod Touch/iPhone-style pad, but this seems unlikely though not impossible.
Sponsored: Minds Mastering Machines - Call for papers now open