Samsung Omnia 16GB smartphone
As good a phone as it is a media player
Sample shots
Click for full-size images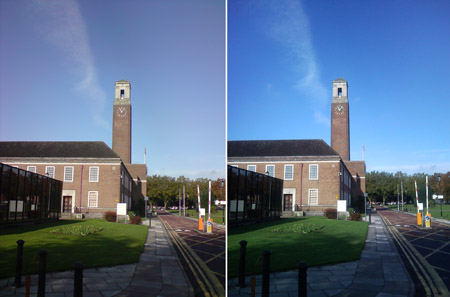 Sony Ericsson K850i on the left, Samsung Omnia on the right

The best camera we've come across on a Windows Mobile handset
Thankfully, Samsung has dodged the pothole that HTC stumbled into when they fitted the Diamond with the battery equivalent of erectile dysfunction and have equipped the Omnia with a reasonably beefy 1400mAh battery which gives a claimed talk time of 6.5 hours and 450 hours on standby in a 3G signal area. Of course, in the real world those numbers are pretty meaningless as extensive use of either the GPS receiver or Wi-Fi radio will emasculate your available talk time. Assuming you can get a Wi-Fi signal.
We always managed a get along full day of very intensive use from a charge, including regular access to all the phone's more power-hungry features. Sticking to just brief phone calls, texts and a little music, we got a solid 60-odd hours of use before having to head for the power socket.
Playing a full screen DivX video with the sound at 50 per cent resulted in a full charge lasting for 2 hours 50 minutes, or all of Star Wars Episode III and the opening 45 minutes of the Bourne Supremacy, which isn't at all bad.
Verdict
Get past the underlying Windows Mobile OS and the Omnia is a capable device that manages to be most things to most people. With better-than-average media file support, generous internal storage and expansion, a good-sized battery and fine 5Mp camera, GPS and all the usual Windows compatibility and functionality, it does pretty much everything you could want and does it either quite well or very well. But TouchWiz UI is a bit of a non-event and Samsung really, really should have tried harder to find a place for an on-board stylus.
Sponsored: Minds Mastering Machines - Call for papers now open

Samsung Omnia 16GB smartphone
A better media player than phone when all is said and done, but still one of the better efforts at combining the two.
Price:
16GB: from £50 on contract. SIM free: £500. 8GB: free on contract, SIM free: £450 RRP