Samsung Omnia 16GB smartphone
As good a phone as it is a media player
Beyond the widget-infested desktop, TouchWiz also gives you a comprehensive two pages of colourful cartoon-like menu icons that give direct access to the bulk of the settings and applications that you're likely to want to use on a regular basis.
As with so many Windows Mobile touchscreen devices, coughing up the £15 for SPB's Mobile Shell will be money well spent especially as it allows you to set up 15 direct-access contacts compared to the frankly useless four you can set up in TouchWiz. It's worth mentioning, though, that Mobile Shell prevents videos playing back in full screen landscape orientation so you'll need to switch it off before you start playing a movie.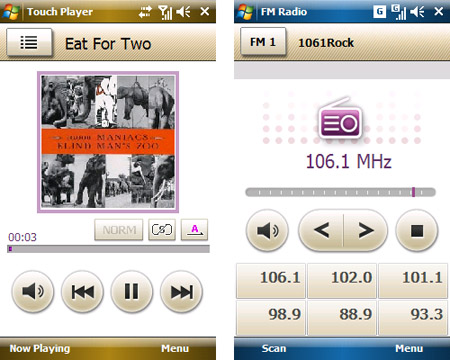 The Omina's Touch Player is a more-than-decent media app. So is the radio
At all times, the Omnia's touchscreen and UI respond smoothly and promptly to swipes, pokes and rubs, while the OS is pleasantly devoid of random pauses for thought - a benefit of the 624MHz Marvell chip under the hood. The accompanying haptic feedback can be adjusted to anything between non-existent and seriously annoying. All together, it's a significant advance on Samsung's previous touchscreens.
Text input is easy enough, there being the usual selection of keyboards, keypads and handwriting recognition. The Samsung phonepad will be the weapon of choice for serious T9 texters, but the keyboard works well enough too. In fact, it's all very much the same as per the HTC Diamond and none the worse for that.
The Omnia's screen accelerometer works well once you have the sensitivity set to "low" - adjust it to anything else and the thing flicks back and forth when you so much as look at it the wrong way. The change from landscape to portrait is accompanied by a funky little animation and when you tilt the phone over with the desktop showing, all the widgets vanish allowing you to repopulate the landscape screen with a new set. Tilt the phone back and the portrait set re-appear.
A handy little application called Digital Frame lets you turn the Omnia into a landscape digital clock with a picture of your choice as the background – a great idea rather compromised by the fact that the power jack prevents you propping the thing the right way up and charging it at the same time.
Sponsored: Minds Mastering Machines - Call for papers now open