Samsung Omnia 16GB smartphone
As good a phone as it is a media player
That 240 x 400 screen is bright enough in most environments. However, it suffers badly in direct sunlight and the format could also be an issue with some applications as it's not exactly a common layout - though it is great for watching widescreen video.
One lesson Samsung should have learned from HTC is how to stow a stylus. While the Diamond's slim magnetic tapper and tucked-away slot is an object lesson in how to do it, Samsung's idea of putting a stylus in a dongle on a lanyard is not. Many folk will be tempted to leave the stylus dongle in the box, but as the Windows Mobile 6.1 GUI has yet to be invented that doesn't require the use of a stylus at some point, we'd counsel against this.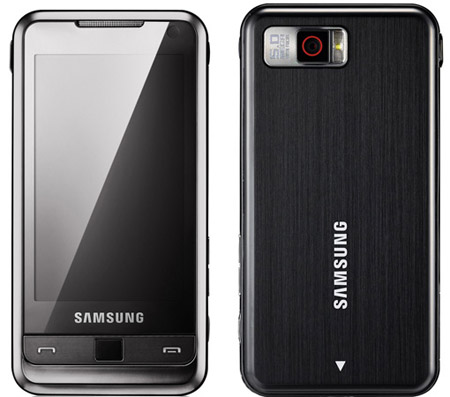 Slim and rounded enough to slip in and out of a pocket with ease
To be fair, the stylus issue is minimised by a rather interesting addition to the usual touchscreen shtick: the Omina's "finger mouse". Switch this on and a cursor arrow appears on screen, run your thumb over the action key, touchpad fashion, and the cursor moves around the screen. It works remarkably well, and makes scrolling through lists and checking those fiddly Windows boxes far easier than would otherwise be the case.
Samsung's take on a WM party dress is TouchWiz, something which we've already seen on the Tocco. It's a neat enough concept, but looks just a little like yesterday's idea alongside HTC's admittedly more processor- and memory-intensive TouchFlo3D interface. It also lacks the comprehensive redesign of the menu text sizes and fonts that helps make the HTC UI look as little like Windows Mobile as possible.
The big idea behind TouchWiz is that on the main screen you have a list of widgets on a menu bar to the left. To activate these widgets, you simply drag them from the menu bar onto the main screen 'desktop'. The menu bar can be collapsed to the left by touching a tab. If this all sounds familiar, it's because it's pretty much identical to the system Nokia uses on the N800 and N810 internet tablets.
Of course, the Nokia offerings have bigger screens, so you can arrange your widgets without ending with a jumbled mess, which is frankly what you get with the Omnia if you have more than two or three on the screen at any one time. As a method of getting the maximum amount of usable information into the smallest space possible, TouchWiz is poor. The widget bar is also fixed, so you can't add or delete items – do you really need widgets for direct access to the games on your Omnia, or to change the wallpaper?
Sponsored: Minds Mastering Machines - Call for papers now open