Samsung Omnia 16GB smartphone
As good a phone as it is a media player
The supplied earphones are rather odd affairs that come with plastic trumpet-looking extensions that sort of rest in your ear. They sound good but we kept expecting them to fall out - which the one on the shorter cable did, regularly.
As the Omnia doesn't come with a dedicated headphones socket, this could have spelled disaster, but luckily the earphones rig is a two-piece affair, the bottom half consisting of the hands-free device with the Samsung jack at one end and a 3.5mm socket at the other, so you can use whatever 'phones you want to and still keep full hands-free functionality.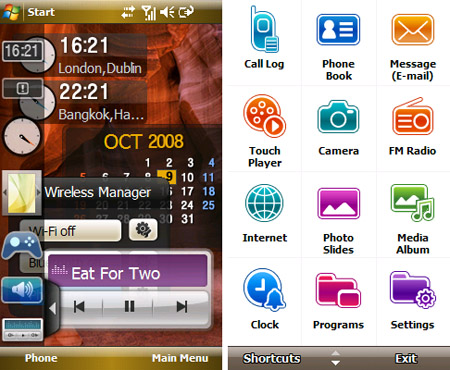 The 'desktop' can quickly become a mess... unlike the main menu
It's a shame the Samsung jack sticks out of the side of the handset in such a blatant manner, though. It's built to snag and gets in the way if you are holding the handset to watch video in landscape. As is always the case, a 3.5mm jack in the top or bottom of the handset would have been a better option.
The 2592 х 1944 pixel snapper comes with autofocus and image stabilisation, making it by far the best camera we have come across on a Windows Mobile handset. The LED "flash" makes it useless for nighttime or low-light photography, but in daylight the results are highly laudable, images being crisp and colourful if not quite as rich those taken with a Sony Ericsson K850i, which we used for comparison. Time between pictures isn't bad either, we managed a snap every four or so seconds.
Video footage can be recorded at either 640 x 280 at 15f/s or 320 x 240 at 30f/s. With top- end Nokias recording moving images at 640 x 480 and 30f/s, this isn't anything to shout about.
Signal reception on our test handset, both Wi-Fi and cellular, was rather poor. On a number of occasions the Omnia struggled to find a signal in places were other handheld devices managed to do so with ease. Had this just been an issue with cellular connectivity we may have put it down to the vagaries of the Orange network - which supplied our locked test handset - but the same was true of the W-Fi radio. In a location where our an HTC Touch Pro picked up a Wi-Fi signal with ease, the Omnia wouldn't even register the signal's presence.
Sponsored: Minds Mastering Machines - Call for papers now open