Samsung Omnia 16GB smartphone
As good a phone as it is a media player
Web browsing is handled by Opera 9.5 – or Internet Explorer if you feel like a spot of self-flagellation. Though not quite as quick or slick as the iPhone's Safari, Opera nevertheless does the job well enough and allows you to pan about and zoom in and out with the minimum of fuss and bother, again very much as per the HTC Diamond. Though it only supports Flash Lite 2.1, a built in media streamer takes up the slack, allowing you to view YouTube videos and the like.
Out of the box the Omnia supports MPEG4, H.263/4, WMV, DviX and XviD video along with MP3, AAC/AAC+, WMA and AMR audio. Add to this the 16GB of on board storage and the option of adding as much again through the Micro SD slot and the Samsung begins to look like a serious PMP.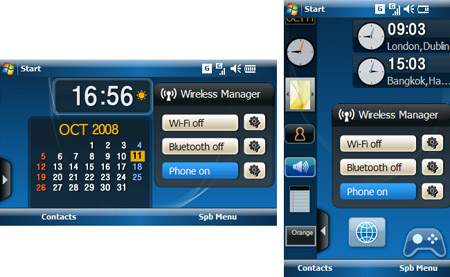 Omnia maintains separate widget sets for its portrait and landscape views
Video file support seems particularly tolerant. By way of a test, we dropped a 25f/s, 272 x 600 avi XviD copy of Revenge of the Sith onto the Omnia and bar one or two very slight pauses it played back with aplomb. Colours and image definition where more than acceptable, while the sound produced by the built-in speaker was little short of excellent, and all without messing about with any reformatting or transcoding.
While on the subject of the speaker, it makes for an excellent speaker phone and can be set to ring loud enough to wake the dead, which some folk may find useful. The RDS FM radio deserves a mention for being a cracking bit of design. The sound in excellent, the interface a model of clarity and the pre-sets are very easy to assign or change.
The Omnia can be manually set to perform as either a USB Mass Storage or MTP device which makes the loading of content via drag'n'drop from Windows, Linux or Mac boxes or via Windows Media Player very straightforward. No problems with ID3 tags or album art recognition, either.
The Omina's Touch Player is a more-than-decent media application, allowing you to view your music by album, artist or genre, browse via cover art and set up playlists on the hoof, all the while pumping out a solid, coherent and focused sound with the aid of the usual raft of EQ settings and presumably the same Bang & Olufsen ICEpower trickery used in the Tocco.
Sponsored: Minds Mastering Machines - Call for papers now open