Revo Pico RadioStation DAB+ radio
Ready for the revamped-DAB revolution
Sound quality on all the platforms is good for a single drive unit. This product is all about being a great all-rounder and the unit delivers good levels of clarity, volume and depth across all types of content. Bass and treble can be adjusted through the menu system, but the radio's sound is actually pretty well set up from the offset, so we found leaving it be got the best results.
The internet search menu is nice and simple, and also has a section of FAQs for internet radio beginners. It provides easy-to follow genre- and location-based searche tempates, and the ever weirder world of podcasts is put on an easy-to-digest plate.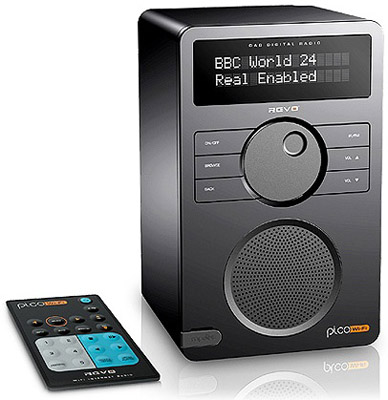 The compact, credit card-style remote proved handy
Check out Sister Diana and her Portland-based guide to running a successful Arts and Crafts business. Or if you don't want to be filled with the urge to drive a knitting needle through your ear drum, BBC Radio 4's Count Arthur Strong provides a hilarious and worthwhile alternative.
Verdict
This is a great little all-round radio which does nothing badly and everything to a high standard. The £170 pricetag is on the right side of acceptable for the functions you get, and the product's robust nature means you should get decent lifespan out of the Pico.
Sponsored: Minds Mastering Machines - Call for papers now open

Revo Pico RadioStation DAB+ radio
A great little all rounder, which does nothing badly and everything to a pleasing standard.