Asus Eee Box Atom-based desktop mini PC
Small, Cheap Computers aren't just laptops, you know
Upgrading the Eee Box beyond changing the hard drive isn't straightforward. Two screws on the base release the pull-out HDD tray, so swapping out the standard 2.5in hard drive is simple. There are two further screws on the base - any or all of them may be hidden by stickers - but removing them didn't make getting the edge off and the innards out any easier. We cooled out zeal to get into the machine by telling ourselves it doesn't belong to us. Besides, had we got it apart, we weren't entirely sure we'd be able to get it back together again.
The Eee Box is one of Asus' first desktops to come with Express Gate, its quick-start UI. Fire the machine up, and in place of the usual 'do you want to set up the Bios?' text, you get four mid-screen icons for browsing the web, looking at your photos, instant messaging and Skype. Further down are smaller icons for continuing on to the main OS, entering the Bios set-up screen and powering the machine down.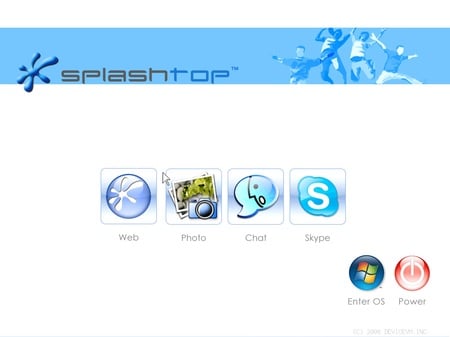 Express Gate: the main screen
Clicking on any of the main icons takes you to a secondary screen and launches the appropriate app: Express Gate developer DeviceVM's Splashtop browser, the Pidgin IM client, a Flash-based photo manager that mimics Apple's iPhoto, and Skype. It all works, though we found the photo tool a trifle slow. Oh, and the browser didn't display even the Asus Eee Box website as completely as the either Firefox or Internet Explorer do. Wi-Fi's disabled by default, but it's easy to switch on in the settings.
Splashtop is based on Linux and does provide a quick way to access the net and do IM and VoIP. Some people will love its fast, five-second start up time, others will prefer to do all this through the OS, as well you might since there are no media playback facilities here.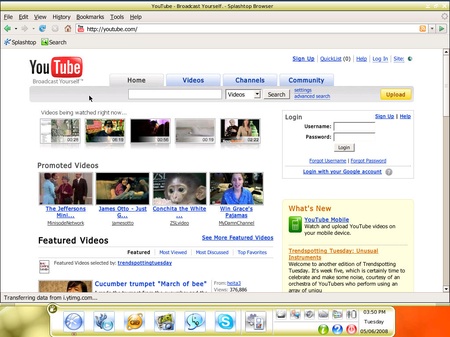 Quick access to the web
If you'd rather just cut straight to the OS - especially if it's Linux too - you can disable Express Gate in the Bios.
Asus has also pre-loaded Adobe Reader 8, so the Eee isn't exactly ready to get productive straight out of the box. Fortunately, various free Office-compatible productivity suites, web browsers, email apps, IM packages, VoIP tools and so on are all only a download away, provided Internet Explorer lets you do so - we got warned off a couple of them.
Sponsored: Minds Mastering Machines - Call for papers now open