Asus Eee Box Atom-based desktop mini PC
Small, Cheap Computers aren't just laptops, you know
The Eee Box's sides sport a grid textures that's spoiled only by the profusion of stickers Asus feels it has to apply in addition to the ones Microsoft and Intel's marketing dollars force it to fit. The bottom ten per cent of each side is a grille, partly for cooling but mostly for styling - there are real cooling vents on the top and bottom of the machine.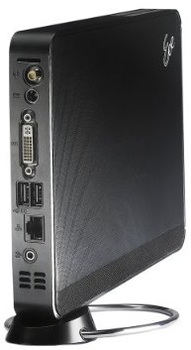 Typical SCC port array... but with DVI instead of VGA
You can lay the Eee Box flat on its side, though Asus advises against this. Asus bundles a screw-on stand that orients the computer upright and raised slightly at the front, and which gives it a Nintendo Wii-like quality, especially with the white version of the PC. Don't like the stand? Tough luck, because there's a plastic nodule on the bottom that prevents it being mounted upright without the stand. You'd be daft to do so anyway - you'd block the main air vents.
There's also an L-shaped metal plate in the box which screws into the same hole as the stand and allows you to fix the Eee Box to the back of a big telly that supports VESA 75 or VESA 100 mounting.
We tested the black Eee Box, and set next to a similarly hued keyboard and monitor - both office Dells - it looked slick, co-ordinated and ready to appear on the desk of anyone from senior management down, or on a table at home.
We can see a fair few folk sticking it next to a TV. Plug in a wireless keyboard dongle on the back, and hook the Eee up to the screen using DVI or an HDMI adaptor and you've got a smart-but-small media centre system.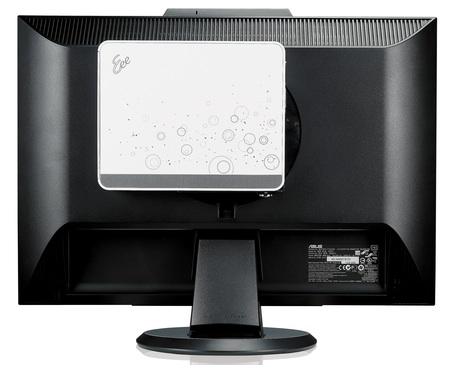 Bolt it to the back of your telly
Of course, being so slim, there's no bulky power conversion kit inside the box - or an optical drive for that matter - but the Eee Box's AC brick, while larger than the ones that come with the Eee laptops, isn't big.
Since the Eee Box ships with Windows XP Home Edition, we were able to run PCMark05. During the tests, a fair amount of air was pulled through the Eee's casing but the fans were reasonably quiet. They're certainly not going to interrupt your viewing, or irritate during quiet internet surfing sessions.
Sponsored: Minds Mastering Machines - Call for papers now open