Ford cars to gain prang-preventing radar rigs
A hit. A very palpable hit.
Ford is to build radar into some of next year's cars in order to prevent (hopefully) drivers bumping into things.
Dubbed "Collision Warning with Brake Support", the system sends out radio waves. If a rebounding signal reveals that the relative speeds of the car and the object in front indicate an impact, a buzzer sounds in the cabin to alert the driver.
It also shines a red light on the windscreen.
And if Joe Sixpack ignores these warnings? Ford's mechanism initiates "brake support", which readies the brakes so that the impact of the driver slamming the pedal doesn't end in a screeching skid, the thud of a bumper thump and the tinkle of shattered indicator-light housing.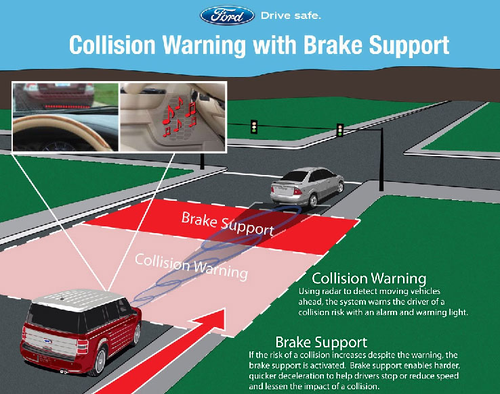 So says Ford, which is keeping quiet about precisely how the brake support system works.
The notion behind Ford's system, which will debut in the US, isn't new, but the motor manufacturer claimed it was the first of its kind to be installed in mass-market autos.
The radar will also be used to adjust the speed of vehicles set to cruise control, to ensure they slow to stay a safe distance behind the car in front, Ford said. The system doesn't just look ahead - it also watches out for vehicles entering the driver's blind spot. That's handy, we'd say, given our experience of US drivers' attitude to lane discipline.
More likely, though, it'll be used to allow motorists to reverse out of parking bays more safely.
Earlier this week, Ford also said it was introducing 'smart keys' which can be programmed by parents to prevent the car from allowing their teenage offspring to drive too fast, not wear seatbelts and jack up the volume of the hi-fi.
It's not yet clear if it also prevents them from making out in the back.