Ten of the Best... Pocket Camcorders
YouTuber or home-movie buff - here are the cameras you should audition
Round-up YouTube has a lot to answer for – not least the sudden rush of low-cost 'pocket' camcorders designed for quickly capturing short video clips on the move. These cameras typically cost less than £100 and have pretty low specifications – as little as 320x240 resolution in the case of the cheap and cheerful Disgo camcorder.
At the same time, though, HD technology has started to move into the mainstream, so at the other end of the market we're also seeing top-of-the-range pocket camcorders such as Sony's TG3, which costs almost £600 and offers 1080i resolution in a slim metal case that's not much larger than an iPod. If that's a little rich for your taste, you can opt for a lower - but still HD - 720p camcorder such as Toshiba's Camileo Pro HD or the Aiptek PocketDV, both of which come in at less than £200.
Finally, filling in the gap between £200 and £600, there are a number of more conventional camcorders aimed at the more ambitious movie buff who wants a wider range of features for their video and DVD projects, such as 5.1 audio, a powerful zoom, longer recording times and extended battery life.
So whether you're a YouTube addict on holiday or an indie film-maker on a budget, there's a compact camcorder just waiting for you to pick it up and slip it in your pocket. After paying for it, of course...
Aiptek PocketDV Z300HD-V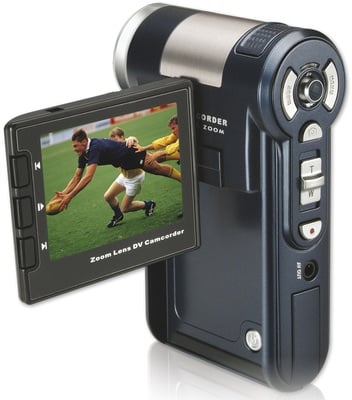 Aiptek used to claim that it had the world's smallest HD camcorder. That's no longer true, but the PocketDV is definitely still worth a look. Like the Toshiba Camileo Pro HD, the PocketDV offers HD video capture at 720p, along with a 3x optical zoom and a quite effective close-up macro mode. The video is highly compressed, but is comparable to an ordinary DVD-quality camcorder. The bundled software is for PCs only, but video is stored in Apple's QuickTime format so Mac users will still be able to transfer files onto their machines using the supplied USB cable. You'll need to buy a memory card, though, as the built-in memory stores only a meagre few seconds of HD video.
Reg Rating 70%
Price £200
More Info www.firebox.com
Busbi Disgo Video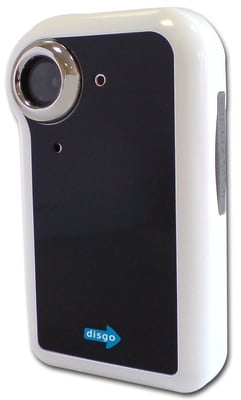 The Disgo is about as cheap and cheerful as camcorders come. It has the same point-and-shoot simplicity as the Flip – you simply turn it on and press the Record button to start shooting, then transfer your clips onto your computer using a standard USB cable. The 320x240 resolution isn't going to win any awards for image quality, and you can forget fancy features such as a zoom option. Even so, the video quality is adequate for quickly shooting short clips that you can upload to YouTube by using the bundled PC-only software. It runs for about two hours off two AA batteries and its 1GB memory card stores about one hour of video, although you can swap this out for a 2GB card if you have one available.
Reg Rating 60%
Price £30
More Info www.dixons.co.uk
Sponsored: Minds Mastering Machines - Call for papers now open
Next page:

Canon FS100