LG HFB-500 solar-powered Bluetooth car kit
Here comes the sun... at last
On the other side of the box is the speaker itself along with the microphone, both hidden behind a grille. Undemonstrative and surprisingly subtle, it nevertheless produces a decent volume level. The side-mounted volume buttons can be easily pressed while driving.
To switch the unit on, you press and hold the red button then search for device using the Bluetooth settings on your phone. Once you've paired the two gadgets - the HFB-500 can remember two phones - they should immediately hook up, though we found that more often than not we had to search and pair each time we got in the car. Not a disaster, but not as smooth a process as LG would no doubt prefer.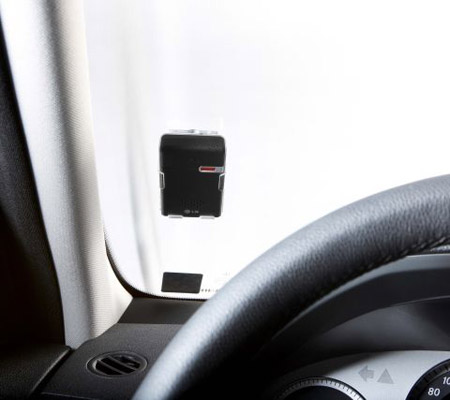 A clear plastic clip enables it to be stuck to your windscreen or dashboard
The sound is slightly on the shrill side, but not distressingly so, and this at least has the advantage of allowing the voice to cut through traffic and car noise in a way that a fuller, more rounded and naturalistic sound probably wouldn't. We found that we got used to it, but perhaps not everyone will.
At the other end of conversations, things weren't quite so rosy, with callers reporting that we sounded distant and with an echo, though they generally had no trouble making out what we were saying.
The red button doubles up as virtually all the controls, which is a nicely minimalist approach, but it does take a bit of getting used to. A brief press gets you into voice-dialing mode, but holding it for a fraction of a second longer activates last-call redial. Happily, any mistakes are quickly rectified with another press to cancel the function. There's also an option to mute the call - a one-second press on the volume-down button - in case you need to have a private word with your passenger while you're driving.
This worked each time we tried it, and there's a beep to show it's activated – reassuring in case you're saying something you really don't want your caller to hear. We found the sound worked best for us with the speaker placed on the top right-hand corner of the windscreen, just above our satnav.
Sponsored: Minds Mastering Machines - Call for papers now open