LG HFB-500 solar-powered Bluetooth car kit
Here comes the sun... at last
Review If your job involves making a lot of phone calls in cars, or you just like to be available when you're on the move, a Bluetooth headset or an easy-fit car kit is the best option.
The main problems with these, however, are that the battery tends to run down at crucial moments, and you need to plug it into your cigarette lighter, creating unsightly dangling wires around the driving area.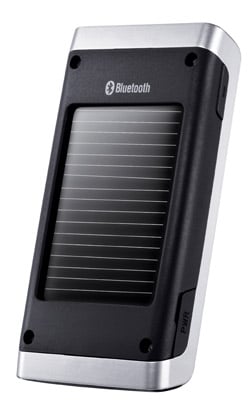 LG's HFB-500: minimalist in the extreme
LG thinks it's come up with a solution to both of these ills with a clip-on car kit that connects to your phone wirelessly over Bluetooth and charges itself with sunlight.
The HFB-500 is a compact block measuring 94 x 50 x 14mm and weighing a fairly lightweight 72g. It's minimalist in the extreme with just a single, red multi-function button on the front, and volume up and down buttons, one on each side. There's a silver strip running around the sides, which adds just a little bit of panache, and most of the back is taken up with the solar panel, which is discreetly dark with white stripes. It comes with a clear plastic clip, allowing it to be stuck to your windscreen or dashboard.
The clear plastic is a nice idea: you can remove the speaker when you leave the car and you can probably get away with leaving the clip in place – it's not that easy for larcenous eyes to spot. And if you're really paranoid, it uses suction cups to stay put, so you can easily whip it off and stash the whole thing in the glove compartment or even carry it around as a portable speakerphone if your handset's built-in speaker isn't up to the job.
Sponsored: Minds Mastering Machines - Call for papers now open