Renault looks to wee-hued windows to cut car power draw
Leverages Insulated bodywork and psychology too
'Leccy Tech Say 'bonjour' to Renault's electric city car concept, the imaginately monikered ZE - for 'Zero Emission', if you have to ask - which it expects to put into full-scale production three years down the 'pike.
The ZE is a Renault Kangoo Be Bop, itself derived from a compact concept car Renault unveiled last year. Strip out the Be Bop's practical features and replaced them with 2001: A Space Odyssey white plastic seating and you've got the ZE.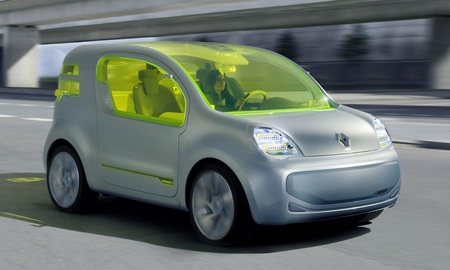 Renault's ZE: yellow-green windows for insulation... or that filled-with-wee look?
Completing the spec is a lithium-ion battery and a 70kW (95bhp) electric motor capable of producing 166lb-ft (226Nm) of torque.
Interestingly, Renault is one of the few motor makers who talk about the energy consumption of "auxiliary functions" when discussing electric cars. In other words, it's factoring in the power need to run the air conditioning, radio, iPod and - this being a French car company - the ciggie lighter.
It said "special attention has been paid to reduce the amount of energy required to run such equipment", which includes heat-reflective paint, "acid green"-tinted glass and insulating bodywork to ensure the cooler/heater has less work to do. The body panels are air-tight, using the thin layer of air sandwiched between them as an insulator.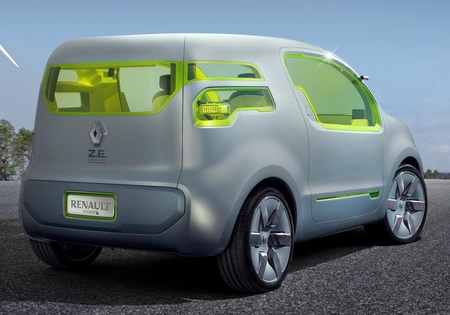 No mirrors, just cameras
Roof-fitted solar panels power the ZE's temperature regulation system, Renault said, and the heating system uses psychology: only heat the steering wheel, and the driver will feel warm no matter what, apparently.
The headlights are LED-illuminated, and the car uses cameras instead of airflow-hindering mirrors.
Renault ZE Photo Gallery
Sponsored: Minds Mastering Machines - Call for papers now open