NASA's IBEX to sniff interstellar boundary
Looking beyond the termination shock
NASA's Interstellar Boundary Explorer, aka IBEX, will on 19 October lift off from Kwajalein Atoll in the Marshall Islands on a mission to probe the interstellar boundary beyond our heliosphere's termination shock1 - a region where "the hot solar wind slams into the cold expanse of space", as NASA nicely puts it.
From an altitude of roughly 200,000 miles (322,00km) at apogee, and beyond interference from the Earth's magnetosphere, IBEX will focus its two single-pixel "cameras" on Energetic Neutral Atoms (ENAs)2 to capture "images of processes taking place at the farthest reaches of the solar system".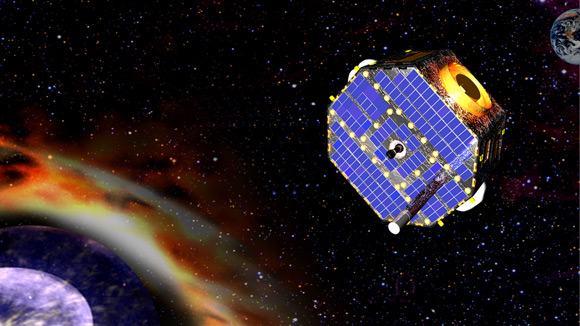 IBEX principal investigator, David J. McComas, explained: "The interstellar boundary regions are critical because they shield us from the vast majority of dangerous galactic cosmic rays, which otherwise would penetrate into Earth's orbit and make human spaceflight much more dangerous."
Indeed, as we recently reported, the Ulysses spacecraft has indicated "the solar wind's global pressure is the lowest we have seen since the beginning of the space age", leading to "an excellent chance the heliosphere will diminish in size and strength".
Ed Smith, NASA's Ulysses project scientist, said: "If that occurs, more galactic cosmic rays will make it into the inner part of our solar system."
McComas noted that venerable spacecraft Voyager 1 and Voyager 2 have already left the inner solar system and "are making fascinating observations of the local conditions at two points beyond the termination shock that show totally unexpected results and challenge many of our notions about this important region".
However, much remains to be discovered. IBEX will spend the first six months of its nominal two-year mission mapping the entire sky to "reveal the global structure of the heliosheath [see note 1, below] and termination shock for the first time".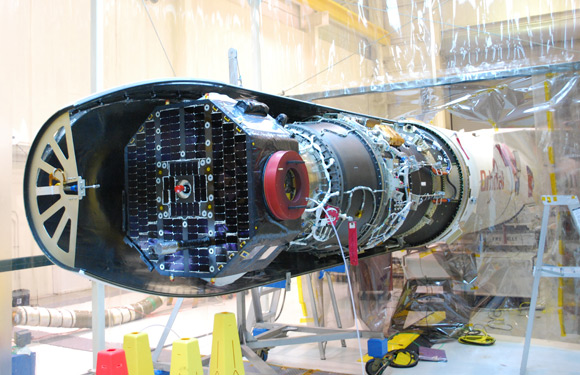 Before getting down to the task in hand, IBEX will be carried aloft to an altitude of around 130 miles (210km) by a Pegasus rocket (see pic, above) dropped from under an L-1011 aircraft. It'll then fire up its own solid rocket motor to travel out to its final working orbit.
NASA's main IBEX mission page is here, and the agency has a factsheet here (pdf). ®
Notes
1The termination shock is the point in the heliosphere where the solar wind is slowed to subsonic speeds (relative to the emitting star) by interaction with the interstellar medium. Beyond it lie the heliosheath, "a vast expanse of turbulent gas and twisting magnetic fields", and the heliopause, where the wind's particles are no longer energetic enough to advance against rival particles from other stars.
2The two cameras (IBEX-Lo IBEX-Hi) measure ENAs with energies of 10 eV to 2 keV and 300 eV to 6 keV, respectively.
Bootnote
NASA explains that IBEX is "23 inches high x 38 inches across (eightsided shape, like a STOP sign)", or "about the size of a bus tire". Come on, chaps, those are not accepted standards.
Sponsored: Minds Mastering Machines - Call for papers now open