Asus Eee PC 1000 10in Linux netbook
The Eee family expands - literally
As you can see from the results of our usual SCC-oriented Gimp test, the 1000 performs better than the 901 at all speed settings, suggesting it's benefited from a Bios tweak. That doesn't appear to have overly harmed the 1000's battery performance. It scored less well than the 901 did, but since it's still well ahead of rival SCCs, that's less of problem than you might at first think.
Gimp Results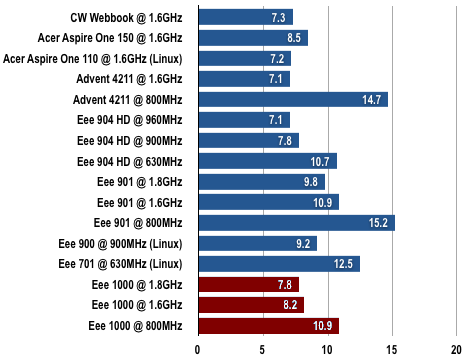 Time in seconds
Shorter bars are better
Asus' move to equip Atom-based Eees with a 6600mAh battery made a big difference to the desirability of the series against rival offerings. The 901 and 1000 deliver the best out-of-the-box battery experience, though will see how upcoming SCCs from Samsung, Toshiba and others challenge that.
Battery Life Results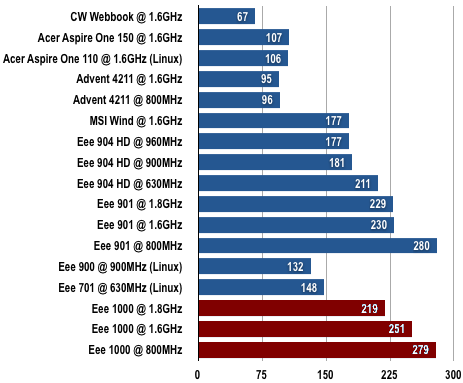 Time in minutes
Longer bars are better
If battery life is your key consideration, your choice of SCC is really between the Eee 901 and the 1000. If it's the best keyboard that you need, you'll have to look elsewhere. In the round, though, the Eee line remains our pick of the SCC crop, and the 901 still holds our Editor's Choice award.
The 1000 doesn't take it because we've yet to be convinced of the value of a 10in screen and, more to the point, this is one pricey netbook. The 1000 will set you back around £369, rather more than rebranded Winds, like the Medion Akoya Mini and the Advent 4211 - and that's with the Windows tax taken into account too.
Verdict
The Eee PC 1000 has a better keyboard than the 901, but so does the Aspire one, the MSI Wind and most other netbooks. The Wind also has a 10in screen, but it feels more compact than the 1000. Only 802.11n and Bluetooth separate it from the herd, and how truly necessary are they, especially when you're paying extra for them? Ditto the 40GB SSD.
No, if you want an Eee go for the 901, which is smaller and offers the same (market leading) battery life. If you must have a 10in SCC with plenty of storage, the Wind's the one.
Sponsored: Minds Mastering Machines - Call for papers now open

Asus Eee PC 1000 10in Linux netbook
Unless you're desperate for the bigger keyboard, the Eee PC 901 remains a better netbook buy than this pricey boy.