Facebook co-founder Dustin Moskovitz calls it quits
Parting is such sweet sorrow...bitch
Posted in Business, 3rd October 2008 23:51 GMT
Watch Now : Virtual Machine Movement with Hyper-V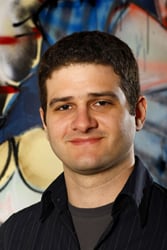 Dustin Moskovitz
Facebook co-founder Dustin Moskovitz said today he's leaving the company along with engineering manager Justin Rosenstein to start a new software business.
In a message left on his Facebook page, Moskovitz said he and Rosenstein have been working on business software for Facebook.
"But at some point it became clear that doing so wouldn't be good for Facebook or for us," he wrote.
Moskovitz stated he would be leaving the company in about a month.
"Dustin has always had Facebook's best interest at heart and will always be someone I turn to for advice," Zuckerberg said in a statement. ®