Philips PET723 portable DVD player
Marriage twixt DVD player and digital photo frame
It wouldn't be so bad if the PET723 could muster up the strength for a decent trip away from the mains, but with a fully-juiced battery we only got one hour 50 minutes into Casino Royale before the player decided enough was enough. You'll be able to improve on this if you're watching a movie from an SD card, but we were hoping for more. And, since the battery isn't removable, you can't simply take a second power pack around with you.
An effective anti-shock feature is present, making in-car viewing possible, and Philips helpfully includes a 12V car adaptor along with the standard mains lead.
Thanks to decent horizontal viewing angles, group viewing sessions aren't a problem but, as ever, vertical viewing angles aren't so hot – place it above eye level and the screen loses all clarity, meaning it's next to useless as a photo frame if you put it on a high shelf.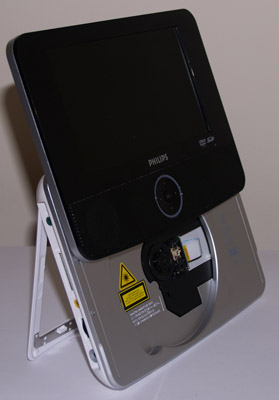 Photos can be loaded via the SD slot or on CD
Meanwhile, the anti-glare screen means you won't have to dodge reflections caused by indoor lighting. But if the sun's doing its job, you'll have to resort placing a towel over you head when watching the PET723 outside.
The battery life stretches to just 110 minutes, and if Philips were serious about the PET723's credentials as a photo frame, why didn't it fit the device with an 800 x 480 resolution screen?
Verdict
With vibrant colours and a decent picture, the PET723 certainly has its plus points. But unless you view from a reasonable distance you'll be constantly reminded of its low resolution. Take it outside, and it's battery life will disappoint. It's a nice idea, giving a photo frame DVD playback, but ultimately Philips has failed to pull it off. For now, we'd recommend purchasing two separate units if you want a portable DVD player and a digital photo frame.
Sponsored: Minds Mastering Machines - Call for papers now open

Philips PET723 portable DVD player
Philips marries the portable DVD player and digital photo frame, but the relationship is not a happy one.