Pint-sized 3M projector makes UK debut
3M's tiny handheld projector has been presented to the Brits.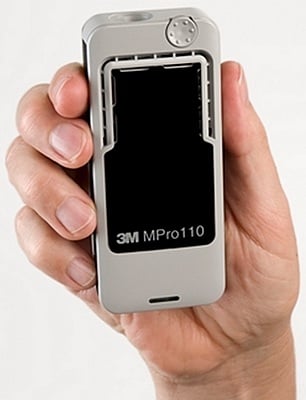 3M's MPro 110: mobile-phone sized
The MPro 110 measures a mere 115 x 50 x 22mm and weighs just 152g. It has a built-in battery that's good for 60 minutes' illumination, 3M claimed.
The projector has a native resolution of 640 x 480 and can project onto surfaces between 12.5cm and 125cm away. The image is generated on a Liquid Crystal on Silicon (LCoS) panel - a tiny display-on-a-chip that emits light that's then magnified by the MPro 110's optics.
Available today, the MPro 110 micro projector retails for around £300.
COMMENTS
Quite niice
A couple of uses I personally could have for it: one is for ad-hoc presentations with a couple of people where they haven't booked a proper projector - we usually dig out a spare screen from somewhere, but this would do the job with much less hassle.
The other is along with a pocket keyboard, for when we're installing our trial servers in data centers and need to troubleshoot on the console - occasionally our customer doesn't have a KVM they can hook up - and this is a small, quick stop-gap.
I saw one of these being demo'd in London City Airport today. It didn't look that bright, giving a legible 14-inch-ish display in moderate ambient light - but for a meeting with 2-4 people who would otherwise crowd around a laptop screen, it'd do, and the price point isn't restrictive. Combine it with a VGA-capable PDA like the Touch Pro that I just got, and you can see the attraction. I think I might buy one.
Sweet
Practical uses are alittle limited at present, but give it a couple or three years and I can see how this kind of thing would be a really desirable (and practical mass market) piece of kit once they're functionally as useful as a "normal" projector.