RM Asus miniBook Plus netbook
Asus Eee PC 904 HD rebranded
We ran the usual Gimp Filter test, which applies a Gaussian Blur filter to four mixed images arranged as a single 2048 x 1366 picture. Under the power saving mode, the miniBook Plus achieved this in 10.74 seconds; in high performance mode it was 7.78 seconds, and in super high performance, 7.08 seconds. By comparison, the scores the Eee PC 901 were 15.21, 10.85 and 9.80 seconds, respectively.
The Gimp Results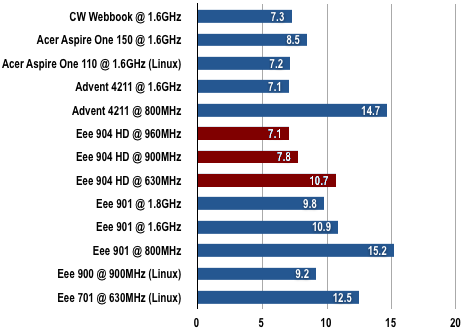 Time in seconds
Shorter bars are better
When it comes to battery life, the miniBook Plus comes up trumps. Under our usual test of running an H.264-encoded movie continuously on a loop (with volume at half setting, screen brightness at maximum and Wi-Fi left on) until the battery went flat, the miniBook Plus ran continuously for 211 minutes in power saving mode, 181 minutes on high performance mode, and 177 minutes in super performance mode.
Battery Life Results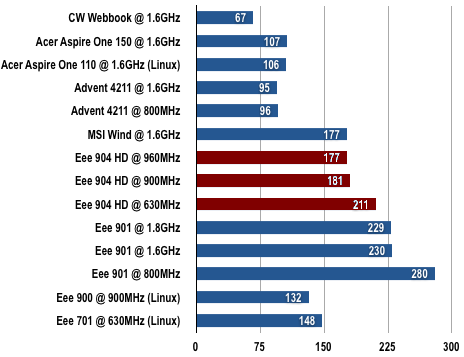 Time in minutes
Longer bars are better
This isn't as good as the figures for the 901, which were 280 minutes, 230 minutes and 229 minutes respectively, but it's still impressive. We also did a real world test, which involved using a battery-powered miniBook Plus for word processing, downloading and installing QuickTime 7 and Adobe Flash player, playing YouTube videos, using the webcam, web browsing - and also plugging in an USB optical mouse and a USB flash drive for much of the time. We also left the Wi-Fi switched on. Under these conditions, the miniBook Plus ran continuously for four hours and six minutes on a single battery charge – again, impressive stuff.
Verdict
The RM Asus miniBook Plus doesn't exactly squeeze a quart into a pint pot, but you do get all the features you might expect to find on a larger computer, such as a good-sized keyboard, reasonably-sized hard drive and Windows XP. And at less than £300, it's also excellent value for money. Sure, compromises have had to be made in terms of size and weight, but it's still highly portable, and we got more than four hours operating time from a single battery charge. Although the miniBook Plus lacks an Atom processor, it's clear that performance hasn't suffered to any great extent because of this.
Schools have been waiting for a highly portable, highly affordable Windows computer that offers good performance and a nice level of functionality. The miniBook Plus delivers all of this – and more.
Sponsored: Minds Mastering Machines - Call for papers now open

RM Asus miniBook Plus netbook
A low-cost, ultra-portable computer that offers good performance, a nice level of functionality and long battery life.