The miniBook Plus is available in both white and black. We had the latter, which, with a gloss black finish, looks decidedly sleek and stylish. One drawback is that it wouldn't take long for students to leave their grubby fingerprints all over the glossy surfaces, although they will wipe off easily enough.
The miniBook Plus also has Wi-Fi (802.11 b/g), a large trackpad, 1.3-megapixel webcam, built-in array microphone (for improved sound when video conferencing), stereo speakers and two user-definable shortcut keys, which let you fire up assigned applications at the touch of a button. On the right side are an SD/MMC card slot, two USB 2.0 ports and a VGA connector.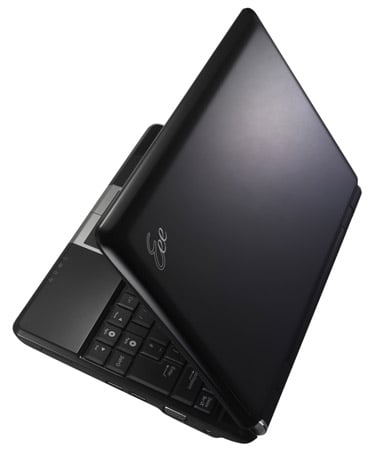 Connectivity includes 802.11b/g Wi-Fi, SDHC and USB
On the left side are a Kensington lock port (we suspect that the miniBook Plus will be seen as a highly half-inchable item), Ethernet (RJ-45) port, microphone jack and headphone socket. The miniBook Plus uses a 6600mAh battery pack rather than the 4400mAh version that shipped with the 900, which should mean good running times. If you believe the Asus website, the battery offers up to 5.4 hours' runtime – but we'll come back to this claim later. The penalty paid for a larger battery (and a larger chassis) is a heavier computer, and the miniBook Plus tips the scales at around 1.4kg. It's not exactly the Kate Moss of computers, but it's still highly portable.
The Plus comes bundled with Microsoft Works, Star Office 8, Intervideo's WinDVD and Skype - the latter is handy for videoconferencing, an increasingly popular activity within schools. There's also the webcam utility Ecam, which includes a facility for capturing still video images (as a 4MB bitmap file at 1280 x 1024 resolution) and video clips (with a 384Kb/s data rate and 640 x 480 resolution). Supplied accessories comprise of a system recovery DVD and a carry case.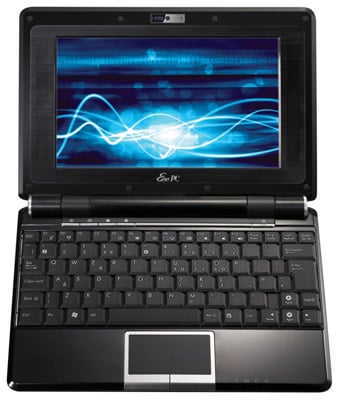 At around 1.4kg, it's not exactly featherweight, but still highly portable
The miniBook Plus is aimed at students and teachers of all ages, so how does it handle? Boot-up time is around 35 seconds, but what did you expect from a computer running Windows? First impressions of the 1024 x 600 resolution screen are good – it looks clear, bright and sharp, although being housed in a lid originally designed for a 10in screen does make it look a tad smaller than it really is.
COMMENTS
The reason that schools want Windows machines
...has been made abundantly clear. Button it, penguinistas.
In any case, even if the Linux options do run very marginally better (no better on battery life though) the time saved is negated by the time spent fannying around trying to get stuff to work. Assuming that there even is a way.
It might not be the optimum hardware for the job, and call me crazy if you like, but personally ("because I can") I'd be wanting to run AutoCAD 2000 (& Paint.NET & other progs like Inkscape, OpenOffice, Sketchup, Blender, Apache2Triad, &c) on one of these fellas.
No problem at all on XP - I'd be up and running in no time.
Bang on all you like about how Linux has alternatives, but there are some glaring holes that even Wine or "the forums" can't sort out.
The so-called "Windows Tax" for having XP on these SCCs runs at around £20. To me, that's a fair price. And the best value for money (for me) is represented by running FOSS (+ a few select others) on XP.
Remember that if your prefered Linux configuration is not available then you can buy the Windows machine, decline to accept MS's T's&C's, install Linux, and claim the cost of the MS licence back. But "You might need to do some searching around in the forums on how to do that." - as Lintards are so fond of saying. :-)
Anyways, back to school use: why do they even need "small laptops"? What's wrong with marginally less portable, but cheaper, "standard laptops"? Surely the scrimping on weight can't be that important in the classroom. And a "proper" sized laptop is more condusive to getting work done. Or if, for whatever reason, a 9" screened machine is so important - what's wrong with the cheaper Aspire One (cheap because of a poor battery that need not be an issue within the school environment)? Or an equivalently priced Advent 4211 which has the bonus of a 10" screen in a 10" case rather than this awkward Eee freaky hybrid.
If this absolutely is the machine of choice, why not buy direct from Asus? Are the schools' collective hands forced to spend taxpayer's dosh with the seemingly uncompetetively priced RM for some particular reason?
This whole RM thing seems like a racket from where I'm standing. Or am I missing something?
RM involved - double the price!
so, slap an RM badge on it and you can double the price.
why do schools need laptops? surely a huge clunker of an full-size tower would be better, then you could put a few housebricks into the case to stop the chavs knicking them!
Wrong Assumption - As usual.
ITYWF it comes in a variety of flavours from RM.
http://www.rm.com/secondary/products/product.asp?cref=PD1030046
Rebadging: why?
Dear Mr. ElReg,
could you please write an in-depth article once, how rebadging adds value? I don't understand the issue. You buy a lot of EEE's or similar, slap on other labels --- so you have to sell it higher: where's the point for me as a buyer? I don't get this whole industry.
A four page review,
and no picture of the beach totty?