Vendors launch sticker chart to boost 3G take-up
GSMA launches pre-emptive strike
The GSM Association, trade body to the network operators, has teamed up with 16 companies to launch a new logo which can be affixed to any kit offering 3G connectivity.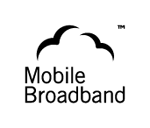 The new service mark is titled "Mobile Broadband", and will be promoted with a $1bn advertising budget put together by the 16 launch participants including Microsoft, Asus and Dell amongst others. The idea is that kit containing HSPA-or-better mobile connectivity will bear the logo, assuring punters that the device will work without needing a hotspot or similar.
Mobile phones are turning up everywhere these days, embedded in laptop computers and electronic books, and that's a trend everyone in the industry would like to see continue. Qualcomm has been voracious in its promotion of Gobi, its multiple-3G-technology-supporting chipset, claiming that "The World Is Your Hotspot" and pointing out that 3G technologies are already offering speeds comparable with Wi-Fi, while 4G should out-perform any unlicensed-frequency-based technology.
That performance is, of course, under optimal conditions. In the real world Wi-Fi is frequently faster, but connections to cellular networks are easier to configure, come with in-built roaming, and aren't nearly as expensive as they used to be. With effectively-unlimited data tariffs it's rare we find ourselves searching for a Wi-Fi hotspot these days.
The 16 companies involved at launch are: 3 Group, Asus, Dell, ECS, Ericsson, Gemalto, Lenovo, Microsoft, Orange, Qualcomm, Telefónica Europe, Telecom Italia, TeliaSonera, T-Mobile, Toshiba and Vodafone, representing 760 million wireless connections in 91 countries, according to the GSMA.
The Wi-Fi Alliance will, no doubt, fight back, and WiMAX will have a service mark of their own - but it's becoming difficult to believe that any technology is going to challenge GSM, even with a brace of new radio spectrum becoming available across Europe. ®
Sponsored: Minds Mastering Machines - Call for papers now open