Sony Ericsson shows wireless kit for Christmas
Bluetooth's inventor demos its wares
Ericsson did create Bluetooth, so it should be able to show off what's possible, though the company's devotion to its offspring is being challenged by loyalty to its parents.
This Christmas will see a plethora of Bluetooth kit coming from Sweden: women with strong arms, or women who wand to build up their arms, will be able to don Bluetooth watches. Earbuds without any apparent battery or circuitry stream music to the ears. Portable speakers will offer stereo sound for those inclined to share - perhaps while admiring photographs Sony Ericsson's new Bluetooth picture frame. And there's even an as-yet-unnamed home entertainment system that SE is hoping to have ready in time to put under the tree.
The watches, as we've mentioned, are a bit bulky, but the bulk is hidden by a pretty face when viewed straight on. The HBH-IS800, on the other hand, almost completely lacks bulk. It consists of two slightly-over-sized earbuds with a cable between them. One bud contains the battery - good for days on standby and hours of music playback, apparently; we'll get you a proper review once we've worked out how to pair them with a non-SE handset - while the other hides the Bluetooth circuits. A single button, on a thicker piece of the adjoining wire, is the only control and also hides the microphone.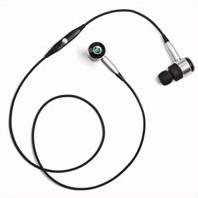 SE's HBH-IS800: Look, ma, no wires! Well... except that one wire, obviously
Sound quality over Bluetooth is more variable than most people understand: while the communication protocol is standardised, the audio codec is not, and devices are at liberty to implement any codec they like as long as they also implement a basic one that is mandated by the standard. This means that a Sony Ericsson phone, connected to a Sony Ericsson headset, might well produce better sound than the same headset connected to a Nokia handset, which might equally produce better sound if connected to a headset supporting Nokia's favourite codec. The problem is that none of the manufacturers like to speak about which codecs their devices support, so the buyer is stuck with getting their kit from a single supplier or testing everything before purchase.
These earbuds produce a decent enough sound, and while they do stick out from the ears a little, the provision of three different sleeves should ensure a tight enough fit to hold them in place.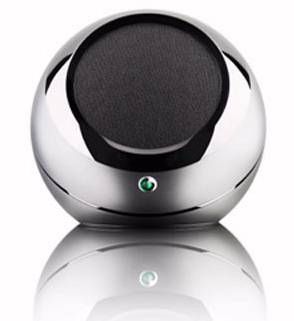 The OLED screen is on the top, and the whole thing looks better than this picture shows
For those who want to make a bit more noise, the MBS-200 is a follow on from the MBS-100, with the addition of an OLED screen and a version that comes with a satellite speaker for proper stereo sound - the MBS-400. The OLED screen is very bright and provides the interface, as well as displaying the current track - if you're using a recent Sony Ericsson phone, or one supporting tho latest Bluetooth profiles. A rechargeable battery ensures it really is a "wireless" speaker, and while we weren't able to crank it up to 11 the 6W system did turn out a reasonable sound.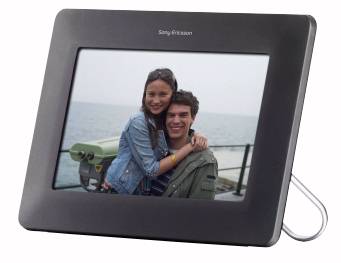 Electronic frames: not yet ready for the family-with-kids demographic obviously
No sound at all from the IDP-100 picture frame though: frivolities such as video and MP3 playback have been dropped in favour of a higher-resolution screen (800 x 480) and support for various flavours of Memory Stick (M2 and Duo), USB 2 and Micro SD. The lack of remote control is touted as a feature, the frame being controlled by touch-sensitive buttons that light up along the bottom, and it is more intuitive than searching for a remote - equally intuitive are the album and photo-tagging functions that allow you to organise your pictures, though any received over Bluetooth instantly display automatically. The only real problem with the IDP-100 is the transition animations, which are jerky and make the software feel unfinished.
Clearly unfinished is the home-entertainment system, known affectionately as the Boulder. This is shaped much like the MBS-200, though about twice the size, with 2.1 speakers hidden behind a grille and a sub-woofer lucking around the back. The Boulder can connect to five different Bluetooth sources, though only one at a time, and has an FM radio for when there's no Bluetooth around. The device shown to us was still a prototype, and the sound quality clearly needed some work, but this is a device aimed at the living room - a replacement for the home stereo system.
Having covered audio streaming and pictures, you'd have thought Sony Ericsson would be warmly embracing Bluetooth version 3 - the upcoming version of Bluetooth incorporates WiMedia, the ultrawideband (UWB) technology that delivers hundreds of gigabits of data over very short ranges, but the company was strangely silent on the subject, preferring to demonstrate video flying around using Sony's proprietary competitor to WiMedia - TransferJet.
The official line is that Bluetooth and TransferJet meet different needs, but when challenged Sony Ericsson's CTO admitted that one of the technologies was going to win out eventually. So while the company's long love affair with Bluetooth might have born interesting fruit it's an affair that's about to enter it's most tumultuous - and possibly final - phase.
Sponsored: Minds Mastering Machines - Call for papers now open