Carphone Warehouse Webbook
The best value Small, Cheap Computer?
The machine switched into standby and needed a recharge after just 67 minutes' H.264 video playback, making it no good for a feature film. Under less intensive use, typing reviews and playing solitaire – the joys of train travel – we got over two hours out of the same three-cell battery pack, but it's still disappointing given its size and Elonex's claim of three hours.
Battery Life Results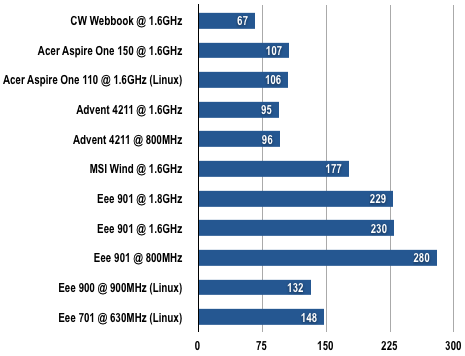 Longer bars are better
OS is Windows XP unless stated
The fan, which is near silent, poured out quite a bit of heat while the video was running, but that's what fans do and the machine itself stayed cool. There's little chance of damaging anything biologically important using this laptop on your lap.
The sample MPEG 4 video we played under QuickTime during battery life testing was jerky, with a low frame count, so you would need to watch in a smaller window to be able to view media comfortably. BBC iPlayer videos played without jerking.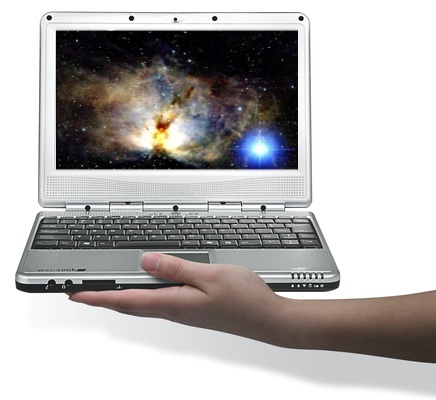 Certainly portable
Verdict
Apart from a bit of trouble playing videos, the Webbook is a very reasonable SCC. There are no major glitches in its design and although things like a webcam and 1GB of memory might be good to have, the machine functions well enough without them. Its keyboard, trackpad and screen are good, and the display in particular is pin-sharp. The downsides: poor battery life, and we've yet to be sold on the VIA C7-M CPU.
But we like the Webbook, and if you can tie it to a good mobile broadband deal, it's likely to cost you less than buying an SCC and dongle separately.
Sponsored: Minds Mastering Machines - Call for papers now open

Carphone Warehouse Webbook
A decent alternative to other SCCs, good for the Web but not ideal as a PMP.
Price:
£274 (Windows XP) or free with a two-year, £25-a-month Orange contract RRP