Carphone Warehouse Webbook
The best value Small, Cheap Computer?
Things missing include Bluetooth - which was obviously considered, as there's a function key for switching it on and off - and a camera, for which there's a hole above the screen, but with a blanking plate rather than a lens behind it. Another 512MB of memory would be useful, as would a memory card slot where the card didn't stick halfway out of the case, tempting the dodgy to nick it and the clumsy to snap it off.
The use of the VIA chip hits the Webbook's performance. Although it runs at 1.6GHz, PCMark 05 rates it's performance at 943, substantially lower than the Advent 4211's 1.6GHz Atom and the Eee 900, running a Celeron M at just 900MHz. It's even slower than the original Eee PC 701, running its Celeron M at just 630MHz. Yet another example, if you needed one, that clock rate is little guide to spec-sheet performance these days.
PCMark05 Results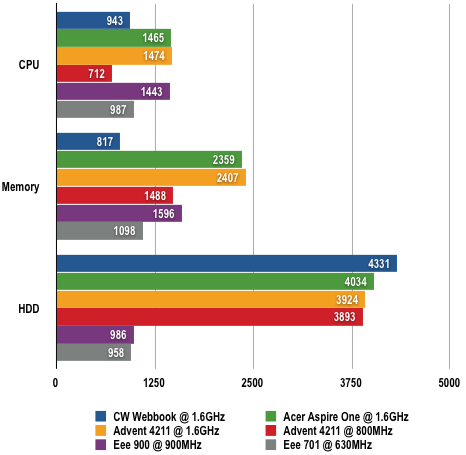 Longer bars are better
The memory index is also lower than these three, and lower than the Advent 4211, running at 800MHz. The saving grace is the performance of its hard drive, which at 4331 beats both SSD and HDD-based competition.
The Gimp Results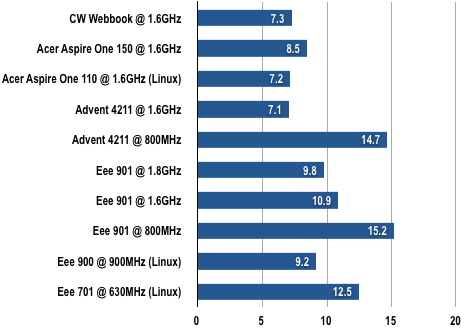 Shorter bars are better
OS is Windows XP unless stated
You shouldn't go just by maths benchmarks though, and running the GIMP Gaussian blur test produces an average time of 7.25 seconds, within a gnat's underparts of the Advent 4211 and the Acer Aspire One. Subjectively, the machine is fast enough for regular web and office duties, and we never felt we were waiting for it to catch up.
Sponsored: Minds Mastering Machines - Call for papers now open