Asus Eee PC 901 to gain HSUPA, HSDPA next month
Only through carriers?
Asus is to integrated HSUPA 3G as well as HSDPA into its Eee PC 901 next month, but it's not clear whether the mobile broadband technology will be available beyond the network operators, or with Linux.
Certainly, Asus' listed specification for the 2Mb/s HSUPA and 7.2Mb/s HSDPA enabled 901 only lists Windows XP.
Other specs match those of the existing model: 8.9in, 1024 x 600 display; Intel Atom CPU; 1GB DDR 2 memory; 16GB SSD; 1.3-megapixel webcam; SDHC memory card slot. Asus said the new 901 will come with a six-cell battery - good, it claimed, for up to seven-and-a-half hours' runtime, provided you underclock the machine, of course.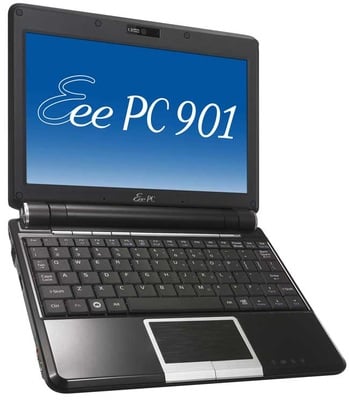 Asus' Eee PC 901: soon with 'super 3G'
Interestingly, Asus lists 802.11n and Bluetooth 2.0 in the spec, but admits that these two features are "operator dependent". This suggests not only that shipping HSUPA 901s may come without Bluetooth and with Wi-Fi downgraded to 802.11g - undoubtedly to make them cheaper for the carriers, reducing the subsidy - but, crucially, that the new model will be sold by carriers.
As yet, we've not heard from Asus whether it will also be sold by regular technology retailers, allowing buyers to acquire mobile broadband laptops that can not only be run on pay-as-you-go tariffs but are also unlocked, allowing them to be connected to any network.
We'd also like to see it made available as an add-in module for all those folk who already own Eee PCs and would rather have an under-the-hood 3G link than a USB dongle. Most 7.2Mb/s HSDPA dongles already support HSUPA, by the way, though that's no guarantee your carrier does.
Either way, Asus said HSUPA/HSDPA support will debut next month.
October will also see Vodafone offer Dell's Inspiron Mini 9 free of charge on a two-year data tariff.
Related Mini Laptop Reviews
Carphone Warehouse Webbook
Advent 4211
MSI Wind U100
Acer Aspire One A110
Asus Eee PC 901
Asus Eee PC 900

Sponsored: Minds Mastering Machines - Call for papers now open