UK WoW fans plead for Lich King Collector's Edition
Amazon.com allocation sold already
UK gamers are up in arms and venting spleen in forums over fears that the Collector's Edition release of World of Warcraft: Wrath of the Lich King will not be be released in Blighty.
According to a statement from publisher Blizzard Entertainment, the CE version will only be available in "select regions". We contacted the firm to find out which locations will be favoured, but so far the company hasn't returned our calls.
What we do know is that US gamers will be get their mitts on the Lich King CE. Amazon.com has this version of the game listed. Amazon was taking advance orders, but it's now sold out of its initial allocation.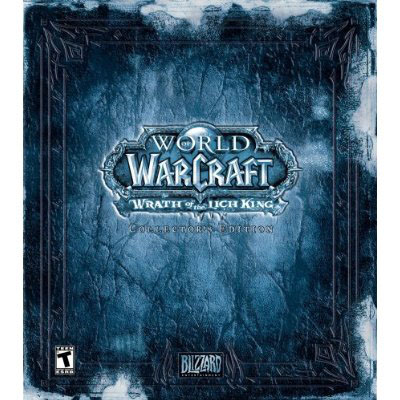 WoW: Wrath of the Lich King Collector's Edition: might not reach the UK
But there's nothing on Amazon.co.uk, and British WoW fans are already in uproar over this apparent rejection. They've vented their frustration in numerous forums. The game's official forum, for example, is bursting with speculation that UK gamers won't be offered the CE version.
One gamer pleaded for a "representative from Blizzard to confirm which retailers are going to be selling the CE". Another fan said simply that it "seems bizarre that Blizzard wouldn't release the CE over here".
Topic threads on Amazon's UK website strike the same note. One contributor asked Amazon UK to list the CE version for sale in the UK because he's got the money burning a hole in his pocket.
We contacted HMV to see if it'll sell the Wrath of the Lich King CE, but a spokesman for the retailer said he didn't know either way. "I have checked with our Games team, and they have received no official notification from the supplier," he said.
But there's some good news. A spokeswoman for the British Board of Film Classification (BBFC) told us that it's awarded a 12 rating just this week to a DVD entitled World of Warcraft: Wrath of the Lich King - behind the scenes.
In the US, the DVD comes with the CE and contains a cinematic introduction video, a Black Temple patch, music and unreleased pictures. But if the BBFC's classified the DVD separately in the UK it begs the question whether it'll be sold separately - unlikely - included in a CE, or bundled in with the game itself.
The BBFC told us it had not had a Collector's Edition of the game submitted for certification.
One thing that is for certain is that will be out in the UK on 13 November, priced at around £25 ($40/€35).
Find the best World of Warcraft: Wrath of the Lich King prices here
Sponsored: Minds Mastering Machines - Call for papers now open