The U800's HSDPA connectivity means you can get quick over-the-air video or audio downloads, and relatively speedy access to websites using the NetFront v3.4 browser. This provides a typical mid-tier mobile experience, with a variety of screen-optimised viewing options, plus pan and zoom facilities. It does a fair job, though it can have problems rendering large pages. The phone also supports RSS feeds for fast access to regular updates from favourite websites and blogs.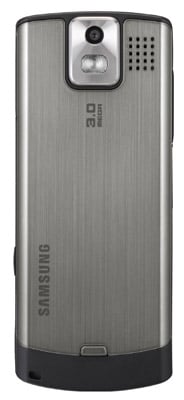 Solid rather than spectacular?
The U800 plays it straight on its other features, with a standard set of organiser tools, including a document reader for email attachments and transferred files, plus the usual voice recorder, calendar, memo, task, calculator, converter, world clock, timer and stopwatch functions. There's a trio of uninspiring games too.
Like its features rundown, there are few surprises when it comes to call quality - it does the job perfectly well without any fuss or drama. Battery life was better than average for a mid-line 3G phone. Samsung estimates that the U800 will run for up to 320 hours of standby on GSM networks or 290 hours in 3G coverage, or give up to six hours of GSM talktime or three-and-a-half hours on 3G. With our average usage, including some music playing, we managed to get a pleasing three-and-a-half days' juice out of the U800.
Verdict
Thin and stylish it may be, but the Samsung U800 isn't a phone that tries to dazzle with the very latest gadgetry. Instead, it's a reliable performer that has a decent spread of 3G mid-tier functionality and multimedia action on board. Understated rather than flashy, solid rather than spectacular, Samsung must be hoping that the U800's attractive design - mixing slimline chic with a touch of Soul – will let the phone stand out from the mid-tier crowd.

Samsung U800 3G mobile phone
Samsung's U800 brings a bit of slimline Soul chic to a tidily-equipped 3G candybar.
COMMENTS
Yup, K800 still better - even if there's a free PS3 with a U800
K800 - xenon flash, fast auto-focussing, sturdy lens cover, stable software (though the last update removed the joystick from waking the screen)
K850 - too easy to smash the lens, silly controls, some report software niggles
C902 - LED flash (c'mon SE, should be xenon with Cybershot), many report software problems, battery life disappoints many as well - lots saying that they expected better after earlier handsets
U800 - nice look and feel but not a good camera, poorer battery life than K800 when in use, and even though T-Mobile briefly gave away an 80GB PS3 on the £40 contract it's still not enough to convince my better half to commit to it (though she liked the style - if they'd fitted a better camera it might have swayed the deal).
Still, overall the U800 is not bad - it's just the K800 still has the measure of it and many newer phones from all sorts of manufacturers.
Phail
Utter garbage, anyone can see that. Its not a FruiteePhone (TM) so anyone who buys it is clearly a blinkered FruiteePhone (TM) hater, as this site so clearly is.
Have sent it back because my Sony Ericssom K800 was better
Maybe it was the fact that it kept asking me if it was OK to proceed after each click of a link in Opera, or maybe I've just become too indoctrinated in to the ways of Sony Ericsson, or perhaps I'm just taking advantage of T-Mobile's 30 day free try before you decide promise, but this phone didn't do it for me.
Have tried the SE C902, and the K850 as well, but nothing has come close to my K800. Perhaps it's a sign of old age