The central navpad – which delivers feature shortcuts as well as menu navigation - is large enough for comfortable thumbing, giving a well-ordered feel to the overall key set-up. Getting around the menus is uncomplicated. Samsung's navigation system is constructed along fairly conventional lines, with an icon-grid main menu, and sub-menus with numbered options you can scroll through or select with a quick number press. Selecting and changing settings is straightforward too, and the phone controls are responsive as they zip you through the options.
Samsung hasn't gone overboard with the display size though – it's a 2in 320 x 240, 16m-colour screen which is suitably bright and clear but average-sized for a mid-tier device. Above this, there's a secondary low-res camera for face-to-face video calls.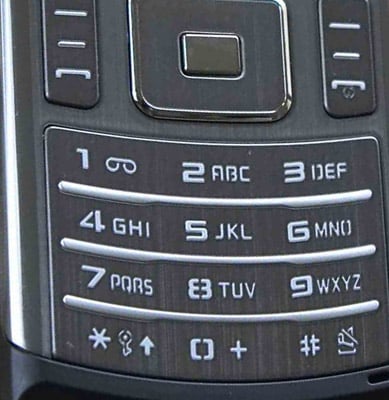 The central navpad is large enough for comfortable use
All-round dimensions are 111 x 46 x 9.9mm, but at 92g it's reassuringly substantial. The skinny side panels still allow room for a Micro SD card slot, a camera button and volume keys, though predictably there's no 3.5mm headphone socket – Samsung uses its customary charger/headphone/USB port. Amends are partially made with the in-box earphone set, a two-piece affair with a 3.5mm adaptor mid-way.
The U800 has a steady set of mid-tier features that cover most of the 3G multimedia standards without straying into gimmick territory. Anyone looking for GPS, Wi-Fi or smartphone customisation will have to look further up-range. Nonetheless, it has a fair amount of functionality on board.
COMMENTS
Yup, K800 still better - even if there's a free PS3 with a U800
K800 - xenon flash, fast auto-focussing, sturdy lens cover, stable software (though the last update removed the joystick from waking the screen)
K850 - too easy to smash the lens, silly controls, some report software niggles
C902 - LED flash (c'mon SE, should be xenon with Cybershot), many report software problems, battery life disappoints many as well - lots saying that they expected better after earlier handsets
U800 - nice look and feel but not a good camera, poorer battery life than K800 when in use, and even though T-Mobile briefly gave away an 80GB PS3 on the £40 contract it's still not enough to convince my better half to commit to it (though she liked the style - if they'd fitted a better camera it might have swayed the deal).
Still, overall the U800 is not bad - it's just the K800 still has the measure of it and many newer phones from all sorts of manufacturers.
Phail
Utter garbage, anyone can see that. Its not a FruiteePhone (TM) so anyone who buys it is clearly a blinkered FruiteePhone (TM) hater, as this site so clearly is.
Have sent it back because my Sony Ericssom K800 was better
Maybe it was the fact that it kept asking me if it was OK to proceed after each click of a link in Opera, or maybe I've just become too indoctrinated in to the ways of Sony Ericsson, or perhaps I'm just taking advantage of T-Mobile's 30 day free try before you decide promise, but this phone didn't do it for me.
Have tried the SE C902, and the K850 as well, but nothing has come close to my K800. Perhaps it's a sign of old age