Samsung U800 3G mobile phone
Bringing a little Soul to the mid-range market?
Review It may have some elements of Samsung's Soul chic in its design, but the U800 is an altogether more straightforward affair than that touch-controlled sliderphone.
There's no touch-sensitive pretensions on the U800 - instead it's a smart-looking though conventionally buttoned candybar with an attractive brushed-steel casing that's a shade under 10mm thick.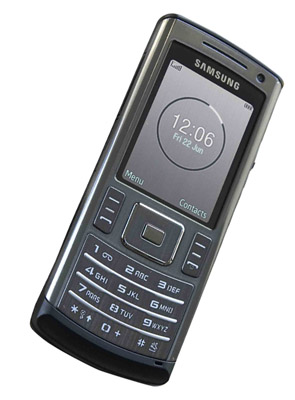 Samsung's U800: an altogether more straightforward affair than the Soul
Inside that slim but solid-feeling bodywork, the U800 is a decently-featured mid-tier 3G handset. It's equipped for mobile multimedia, with HSDPA high-speed data connectivity at up to 3.6Mb/s, 1GB of internal storage and a three-megapixel camera. It's fitted with music and video players, plus a full web browser.
It certainly has some first-sight appeal. The minimalist, curved-edge look invites comparison with the Nokia 6500 Classic - but with a spec list that trumps it.
Well-balanced in the hand, the U800 feels comfortable to hold and operate. Its numberpad gives a design wink to the Soul, with flush rows of keys nicely separated by sliver-thin curved ridges. Speed texters may find text-input action just a touch heavy, but otherwise it's fine. The main navigation control and soft-menu keys are similarly low profile, with subtly-raised details as fingertip guides.
COMMENTS
Yup, K800 still better - even if there's a free PS3 with a U800
K800 - xenon flash, fast auto-focussing, sturdy lens cover, stable software (though the last update removed the joystick from waking the screen)
K850 - too easy to smash the lens, silly controls, some report software niggles
C902 - LED flash (c'mon SE, should be xenon with Cybershot), many report software problems, battery life disappoints many as well - lots saying that they expected better after earlier handsets
U800 - nice look and feel but not a good camera, poorer battery life than K800 when in use, and even though T-Mobile briefly gave away an 80GB PS3 on the £40 contract it's still not enough to convince my better half to commit to it (though she liked the style - if they'd fitted a better camera it might have swayed the deal).
Still, overall the U800 is not bad - it's just the K800 still has the measure of it and many newer phones from all sorts of manufacturers.
Phail
Utter garbage, anyone can see that. Its not a FruiteePhone (TM) so anyone who buys it is clearly a blinkered FruiteePhone (TM) hater, as this site so clearly is.
Have sent it back because my Sony Ericssom K800 was better
Maybe it was the fact that it kept asking me if it was OK to proceed after each click of a link in Opera, or maybe I've just become too indoctrinated in to the ways of Sony Ericsson, or perhaps I'm just taking advantage of T-Mobile's 30 day free try before you decide promise, but this phone didn't do it for me.
Have tried the SE C902, and the K850 as well, but nothing has come close to my K800. Perhaps it's a sign of old age