HTC Touch Pro smartphone
HTC's best handset yet?
There's just enough resistance to register a press, without making things awkward, and the screen responds to key presses instantly without any noticeable lag. Everything is where you'd expect plus there are direction arrow keys and shortcuts for symbols, text and email making it all feel very natural and easy to use.
On the sides, the theme is minimal, with only volume controls on one side, a power button on top, and a USB port on the bottom. Incidentally, the back, while retaining the angled design of the Diamond, is a sober matte black rather than the glossy fingerprintprint-magnet the Diamond has.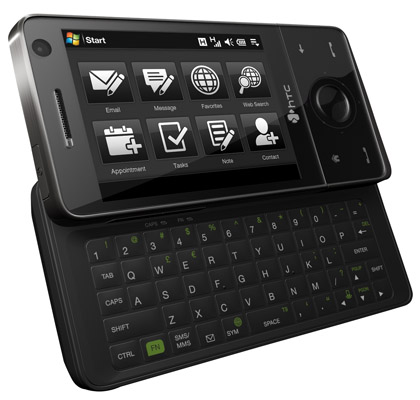 The keys have a slightly raised centre, making them easy to differentiate
There's a Micro SD port too though you'll need to remove the back - but fortunately not the battery - to get to it. There's no card supplied with the basic package but you'll probably need one to augment the Pro's surprising lack of on-board memory – just 512MB.
Switch the phone on and you're confronted with HTC's TouchFlo 3D user interface, which does a great job of livening up the Windows Mobile 6.1 Professional. We couldn't measure it, but we got the feeling that ramping the RAM up to 288MB might have had the effect of speeding up the system while we were finding our way around the menus.
You can move between applications with a flick of the thumb and there are some nice graphic tricks too, like the flipping envelope with emerging letter for email messages and the animated weather icons - yes, weather is still a big thing with HTC, though it's no longer part of the home page. The touchscreen is easy and precise to use, and though there's a stylus provided - which slips neatly into a magnetised slot on the side - we rarely had cause to use it.