Hands on with the T-Mobile G1
An in-depth and hands-on look at the phone everyone's talking about
However, Warmsley hinted that a zoom facility could be added in future, which suggests that a firmware update could find its way to the phone soon after the UK November launch.
The phone's storage capability is reasonable, because it has 2GB of on-board memory and supports Micro SD cards. But you'll need a dentist's toolkit to get the memory card out, because it slots out from behind a tiny and oddly shaped panel on the phone's side.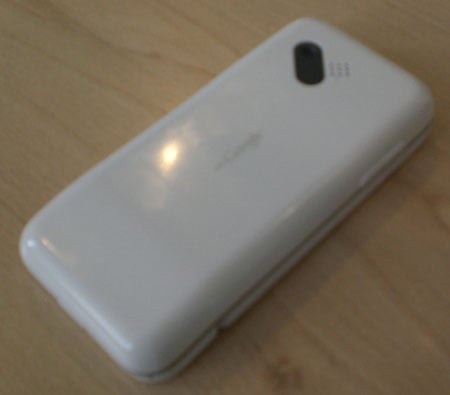 The G1 doesn't have a user-facing camera
The 3.2in 320 x 480 screen displays videos clearly and Android's integrated Music application helps organise and belt out tunes in a range of formats, including MP3, AAC and WMA. It's worth noting that the G1 doesn't sport a 3.5mm headphone jack, so an adaptor will likely be on your list of accessories to buy if you opt for the G1.
So, what else did we think was cool about the much-hyped Android-based G1? Well, it's got a nice weight to it, 158g to be exact, which makes the phone feel sturdy in your hands.
The bottom section, which houses the tracker ball and associated buttons, juts out at a slight and almost unnoticeable angle. This might sound like a moot point, but this ensures that the phone's rear-end curves comfortably around your jaw line.
When a text message comes in the SMS' content scrolls across the top of the phone's screen. This will be handy if you're mid-way through a web session and can't be bothered to open the message up yourself.
The G1 is manufactured by HTC and will be available exclusively though T-Mobile in the UK this November. It'll be free on the network operator's £40 per month tariff, which comes with unlimited web access.
Sponsored: Minds Mastering Machines - Call for papers now open